Ul

tra

Vio

let : Color trend of the Year 2018

A dramatically provocative and thoughtful purple shade,
Ultra Violet points us toward the future.

Color Trend of the year means a lot thing. It won't be out of your way. Leatrice Eiseman, executive director of the PANTONE color institue said "We are living in a time that requires inventiveness and imagination. It is this kind of creative inspiration that is kind of creative inspiration that is indigenous the PANTONE 18-3838 Ultra Violet, a blue-based purple that takes our awareness and potential to a higher level. From exploring new technologies and the greater galaxy, to artistic expression and spiritual reflection, intuitive Ultra Violet lights the way to what is yet to come."
---
The vast and limitless night sky is symbolic of what is possible and continues to inspire the desire to pursue a world beyond our own.
---
Much more than Trending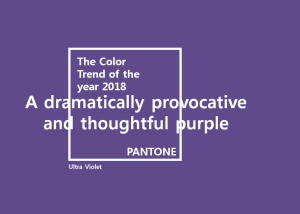 Laurie Pressman, Vice President of the Pantone Color Institute, said "The Pantone Color of the Year has come to mean so much more than 'what's trending' in the world of design; it's truly a reflection of what's needed in our world today." At the end of the day it is the actions that are important, and what remains is the application to me. In fact, Color of the Year 2018 has nothing to do with me. Even if Ultra Violet is creative, it doesn't make me creative. The future is up to you. Now, move fast!
Peace

is up to you

:0

Good luck

!