National
Police

College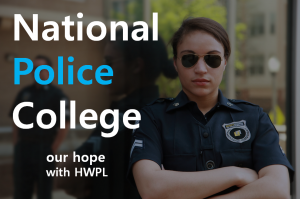 Every year, the National Police College (NPC) holds a symposium on peace, security and justice as part of its Police Senior Command and Staff Course (PSCSC). The PSCSC, which brings together senior Police students from across Africa, offers a Masters of Arts in Peace Studies and Conflict Transformation.
This year, Theme of the Sixth PSCSC: "Mainstreaming Human Security in the New Security Landscape: A Holistic Approach to Sustainable Peace and Development."
What kind of results before and after? They can broaden their understanding from experts, policymakers, academicians and key actors in their local and understand how it impacts sustainable peace and development. What's more surprising is that after classroom work, they go a study tour that is aimed at exposing them to practical aspects of strategic policing.
HWPL

: Substantial

&

Powerful
  I think NPC really want sustainable peace and substantial results. And It would be great if the participants could learn practical things. If so, I would recommend HWPL. They're growing incredibly and fast. The objectives of HWPL is to end war. You can think 'Is it possible?