Spring is really here
"Have you ever noticed that everything seems wonderful in spring?"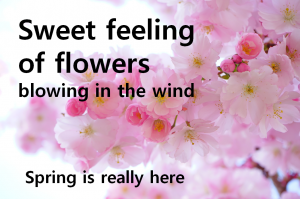 It is already April. There are sweet feeling of flowers blowing in the wind, sense of colors being intensified by the sunlight and the pleasures of a spring day. When I'm sentimental,  I listen to this music. When I'm in hard time, I listen to this music.  When I'm happy, I listen to this music.
Alas! and Did my Saviour Bleed
1.  A-las! and did my- Sav-iour bleed,
and did my- Sov-ereign die
Would He de-vote that sa-cred head
For such- a- worm as I
2.  Was it for crimes that- I have done,
He groaned up-on the tree
A-maz-ing pit-y! grace un-known!
And love- be–yond de-gree!
3.    Well might the sun in- dark-ness hide,
And shut his- glo-ries in,
When Christ, the migh-ty Mak-er, died
For man,- the- crea-ture's sin.
4. Thus might I hide my- blush-ing face
While His dear- cross ap-pears
Dis-solve my heart in thank-ful-ness,
And melt- mine- eyes to tears.
5. But drops of grief can- ne'er re-pay
The debt of- love I owe!
Here, Lord, I give my-self a-way
'Tis all- that- I can do.
Korean Version "웬말인가 날 위하여"
How you doing today, my friend?
Everything is up to you. Good luck 🙂
'Spring is when life's alive in everything.' – Christina Rossetti