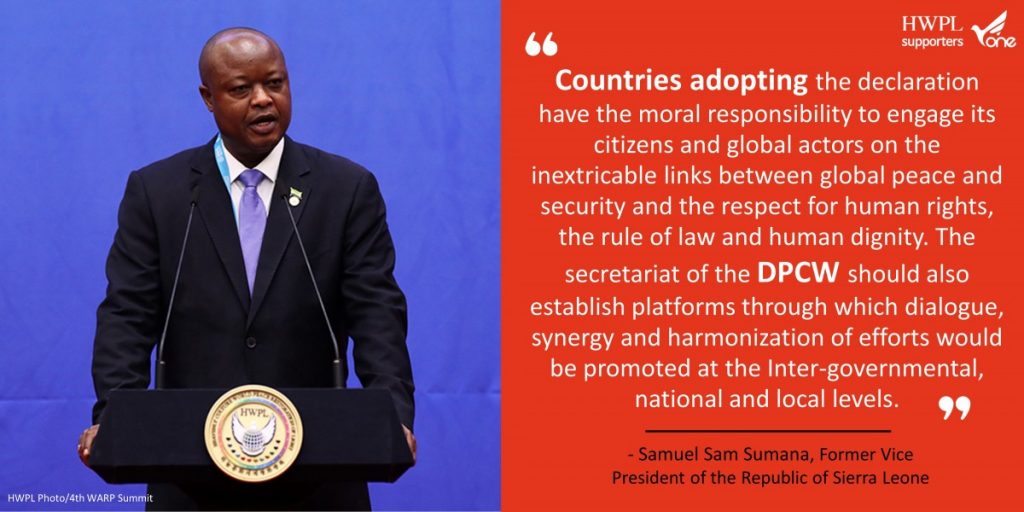 These are the speeches given by the many presidents who passionately spoke regarding their support of the Declaration of Peace and Cessation of War (DPCW) and some of the important methods for its adoption to the UN at the 2018 HWPL World Peace Summit.
H.E. Samuel Sam Sumana, Former Vice President of the Republic of Sierra Leone, said "Speaking out against inequality and social injustices during his Rivonia Trial on 20 April 1964, Nelson Mandela stated 'I have cherished the ideal of a democratic and free society in which all persons live together in harmony and with equal opportunities. It is an ideal which I hope to live and achieve. But if needs be, it is an ideal for which I am prepared to die.'
Your Excellencies, Distinguished Guests, Ladies and Gentlemen, the "Declaration of Peace and Cessation of War" could not have come at a better time than this. Let me take this opportunity to thank Chairman Man Hee Lee for this brilliant, timely and history making initiative. The world will always remain grateful. Thank you Sir.
Your Excellencies, for this declaration to leave its footprints on the sands of time, make a positive difference in the lives of ordinary people, take hope where there is despair, promote love where there is hate, it has to be owned and led by national and local actors in every country across the world. A bottom-up approach has to be employed to get states and their citizens buy into, own and lead the process.
To ensure this, a set of people committed to global peace and security have to be mobilized to constructively engage members states in ensuring that this declaration is adopted by the United Nations. However, the essence of this declaration should not be limited to its adoption by the UN but rather to help transform mind-sets and change the conversations and narratives around global peace and security.
Countries adopting the declaration have the moral responsibility to engage its citizens and global actors on the inextricable links between global peace and security and the respect for human rights, the rule of law and human dignity. The secretariat of the DPCW should also establish platforms through which dialogue, synergy and harmonization of efforts would be promoted at the Inter-governmental, national and local levels.
We should not fail in this drive, we have to succeed and we must succeed. I therefore call on all global political and religious leaders across the world, to do their utmost to ensure the adoption of the 10 Articles and the 38 Clauses of the Declaration, at the United Nations."
Source: http://hwpl.kr/en/news/view/181101348/12/WhatPresidentsSayaboutSustainablePeaceI
Peace is up to you :0 Good luck!