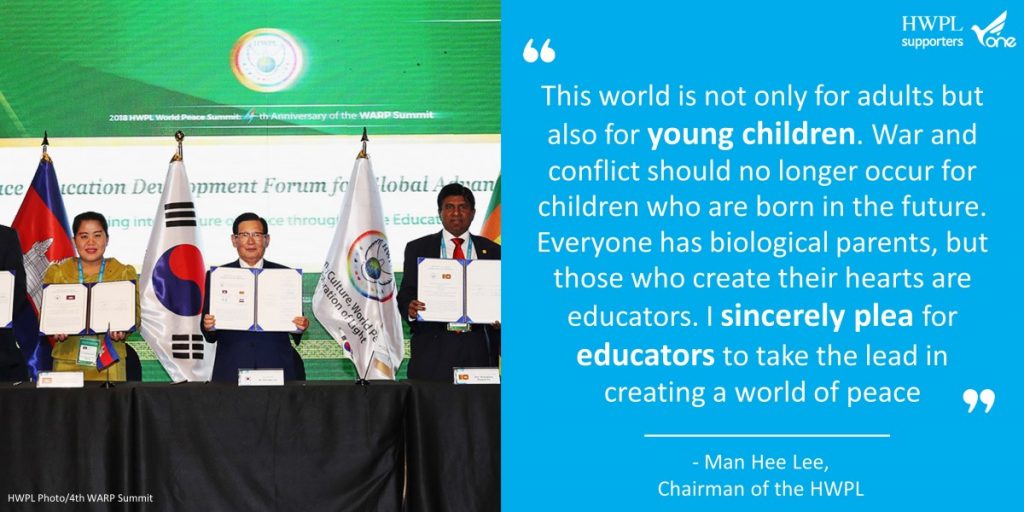 On September, 2018, the Peace Education Development Forum for Global Advancement was held. The Peace Education Project, which is one of the core initiatives of HWPL, was initially proposed as a groundbreaking way to achieve the realization of Article 10, "Spreading a Culture of Peace", of the Declaration of Peace and Cessation of War (DPCW). As a result, 164 schools in 12 countries have signed MOUs with HWPL.
On this day, ministers and vice ministers representing the Ministries of Education in Sri Lanka, Cambodia, Guatemala and Iraq signed an MOA with HWPL and 30 schools in nine countries also signed an MOU simultaneously.
Chairman Lee of HWPL stressed the mission of global families to implement peace education: "This world is not only for adults but also for young children. War and conflict should no longer occur for children who are born in the future. There is a saying, "If the water above is pure, the water below will be pure". Everyone in the global village should become a messenger of peace. Then our children will see the peaceful environment and learn from it naturally. If we walk all the way to peace together, the children who are born will also walk along the path of peace together, and peace will automatically be passed down as a legacy to future generations. There is no use in passing down a world of conflict."
He also added, "Everyone has biological parents, but those who create their hearts are educators. I sincerely plea for educators to take the lead in creating a world of peace," enlightening the educators who conduct peace education.
The Chairman Man hee Lee is a really powerful messenger of peace. It is why 3.6 billion Women and 1.8 billion Youth support him. Everything is up to you!
Reference: http://hwpl.kr/en/news/view/180918332/24/PeaceEducationDevelopmentForumforGlobalAdvancementLookingintoaFutureofPeacethroughPeaceEducation
Peace is up to you :0 Good luck!