Legislate Peace Campaign : D

P

C

W

  What is HWPL? Its purpose is to end WAR. Since the beginning of human existence, the war has been inseparable with human. How do you feel? Maybe you think 'Is it possible?' and you can't imagine 'the world without war'. The HWPL's Solutions is establishing of international law aiming to construct a world of peace. They want to make peace as a sustainable legacy for future generations. It can be conducted by forming peace as a fundamental value for coexistence. HWPL's Legislate Peace Campaign with its legal, cultural and social advocacy movements has garnered fruitful results. How many? 630 events being held in 176 countries with over 1 million participants.
"

630 events 176 countries 1 million participants"
"When the light of heaven shines in the hearts of people, it becomes the light that never fades away."
– HWPL
Adoption of the D

P

C

W in International Organizations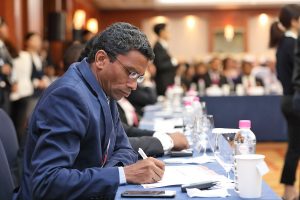 The Central American Parliament(Diputados del Parlamento Centroamericano, PARLACEN), with 6 member-states, has now completed the official process of approval for the Declaration of Peace and Cessation of War(DPCW) after a year of discussion in the Commission of Peace, Public Security and Human Rights. It is an amazing achievement!!! I supported their walk. I want to make world where peace is everywhere.
The resolution includes the following,
"It is intended that the Central American Parliament raise the flag of peace among the entire international community, taking this message to all governments, international organizations, civil society, political parties and others.
Based on what was considered above and the legal basis invoked, the Commission of Peace, Public Security and Human Rights issues favorable report with amendments to the initiative AP / 1278-278 / 2016 the "DECLARATION OF PEACE AND CESSATION OF WAR".
In the DPCW promoted by HWPL on March 14, 2016, the respect of human rights and international law is fundamentally promoted, especially the role of the states in relation to the promotion of Peace, Justice and Freedom."
Peace

is up to you

:0

Good luck

!