Together We Make a
Difference
The World Alliance of Religions' Peace (3rd WARP) Summit, which was first held in 2014, has been held annually in Seoul. Each year, influential people from all around the world meet in South Korea. HWPL  was acknowledged for substantial and practical way to achieve peace. Actually, people who come to the Peace Festival are all moving. They can feel 'Peace waves', which also be called 'the heart of peace', deep down in the heart. This time, I introduce 'Peace parade' and finale 'Arirang of Peace' performance. The peace parade showed how global peace is being achieved in accordance with the 10 articles and 38 clauses of the Declaration of Peace and Cessation of War. 
Hidden heroes of the 3rd
WARP
Parade Art Production Team Leader
Dongwoo Han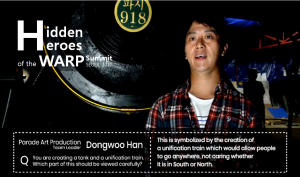 Q. You are creating a tank and a unification train. Which part of this should be viewed carefully?
"In the case of the tank, a key point to take notice of is how the cold and lethal weapons of death are transformed into agricultural tools that help people and give them joy. So, it becomes a world where there are no longer any weapons that kill people. In the case of the unification train, it shows how the unification of Korea, which is the world's only divided nation, is able to give hope.
This is symbolized by the creation of a unification train which would allow people to go anywhere, not caring whether it is in South or North."
---
Parade Art Production Team member
Minjeong Kim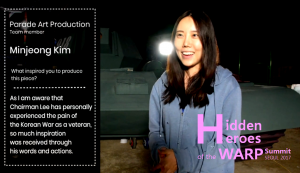 Q. What inspired you to produce this piece?
"During the proclamation of the Declaration of Peace and Cessation of War, Chairman Lee of HWPL stated that we must not create weapons that are to be used for war any longer, but instead should transform them into tools that are beneficial for humanity. These ideas have been a great inspiration for my work.
So, the main gun on the top of the tank was replaced with a golden trumpet that would be used to announce the news of peace. As I am aware that Chairman Lee has personally experienced the pain of the Korean War as a veteran, so much inspiration was received through his words and actions."
---
Going along with the lyrics of "Arirang of Peace," it was like seeing the blueprint of a new era and "entering the new world of peace" that is without war and terrorism.
---
Arirang Performance performer
Jiyun Ahn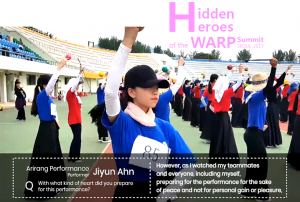 Q. With what kind of heart did you prepare for this performance?
"I had many thoughts about what kind of heart I should be preparing for this performance with if things became hard or difficult. However, as I watched my teammates and everyone, including myself, preparing for the performance for the sake of peace and not for personal gain or pleasure, my heart became ever more eager for peace and I worked even harder while practicing."
---
Arirang Performance performer
Hyunji Kang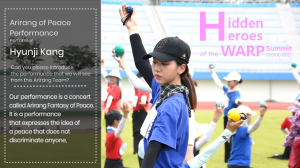 Q. Can you please introduce the performance that we will see from this Arirang Team?
"Our performance is a concert called Arirang Fantasy of Peace. It is a performance that expresses the idea of a peace that does not discriminate anyone, even though nationality, race, culture and religion may all be different. It brings together a traditional Korean song with traditional instruments, dances martial arts and other elements showing a harmonized global village full of excitement. This concert is a peace festival that represents the global village that will live in harmony and create peace.
It is during the performance of Ganggangsullae(강강술래), a traditional Korean dance, in the Arirang of Peace where one of our team members steps across the connected backs and shoulders of the others. This clearly demonstrates how a beautiful reality of peace is achieved through the combined sacrifice and effort of everyone involved.
Therefore, during practices not even one person could think selfishly, but instead had to willingly lend their back and shoulders. So, we carefully practiced with the mindset that I myself must hold hands and create peace along with everyone else."
Peace

is up to you

:0

Good luck

!