When you are nervous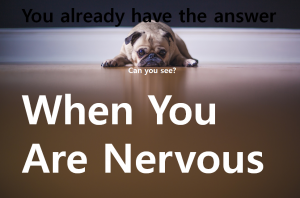 Did you have a good day today? Wasn't it hard? I don't blame you for being anxious. Doesn't that worry you a little bit? After you endured through a day, I want to say 'you did a really good job!'. There is a song I had heard whenever it's hard. The story of this song is to find an answer which you already has. The only thing that you need is to believe yourself. We just need 'ah-ha' moment. You already have the answer.
DROOPING SNAIL (YOO JAE SUK & LEE JUCK) – AS ONE SAYS(abridged edition by me)
 When I was twenty years old, I would worry What do I do tomorrow?
What do I do tomorrow?
Even when I closed my two eyes
I just couldn't fall asleep I deeply pondered
Why can't I?
Why can't I succeed?
I did not believe that things could happen as one says
I could not believe it Doing as one thinks
Seemed like a lie
But then one day
In my heart, a small but amazing realization was found
To be honest, I never ran crazily toward something
And I set myself up on my feet
Doing as one says
The moment I saw that this was possible
I decided to believe it
Doing as one says
If you believe that this is possible
This song can be summed up in 4 sentences. Next song is what I really want to introduce to you 🙂
You can feel it
Norah Jones – Peace
There's a place that I know, where the sycamores grow
And daffodils have their fun
Where the cares of the day seem to slowly fade away
And the glow of the evening sun
Peace, when the day is done
If I go there real late, let my mind meditate
On everything to be done
If I search deep inside, let my conscience be my guide
Then the answers are sure to come
Don't have to worry none
When you find peace of mind, leave your worries behind
Don't say that it can't be done
With a new point of view, life's true meaning comes to you
And the freedom you seek is won
Peace is for everyone
Peace is for everyone
Peace is for everyone
Peace is up to you. Good luck! 🙂