The Road Not Taken – Robert Frost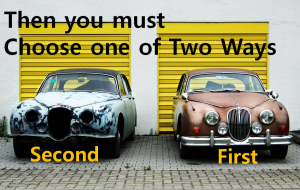 Somewhere ages and ages hence:
Two roads diverged in a wood, and I—
I took the one less traveled by,
And that has made all the difference.
Full text : https://www.poetryfoundation.org/poems/44272/the-road-not-taken
Topic : The Road Not Taken
Write about a situation in which you must choose one thing at a crossroads. Take one of the two paths (or more), like the lines of Robert Frost's 'The Road Not Taken' and write about a situation where everything has changed because of it.
---
My situation : When I found out the Lotto, which won the first prize, in the book I borrowed from a friend
1. I hand it over to my friend.
2. You take the winning lottery and change it into another one in the book.
3. Ask for some money in return for handing it to a friend.
---
Writing practice #1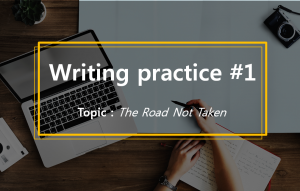 Hmm.. I think I really agonize about what to decide. First of all, it is not option 3. This is of course his, and I don't want my friend to know what I think. Frankly, It is true that I want the money. Isn't the money too big?! How many things can I do? Let's imagine. First, I am now learning Adobe Premier Pro and After Effect. I will buy related books, and computer specifications should be very very good. I will spend some money on my growth and development. But wisdom can not be bought with money. My ability is too.
What kind of person do I want to be? I want to be a person recognized as capable. I think this is the most important to me. And I also want to give a lot of support to others. I want to help people who are in trouble. I also want to connect them with people like me. Of course, I won't always go well. In that case, I have to learn how to suffer. Money alone can't solve everything. There will also be a problem with my conscience and sorry for him. But shouldn't money go to a good spender? Isn't this a big problem in the world? In the end, I will give it to my friend. I am grateful to think twice about my values. Sorry, it's time to say good-bye. Lotto—
Peace

is up to you

:0

Good luck

!