5
th

Annual Commemoration of the Declaration of World Peace

Resolving Conflicts and Spreading a Culture of Peace through the Declaration of Peace and Cessation of War (DPCW): Realizing Peace on the Korean Peninsula
  Heavenly Culture, World Peace, Restoration of Light (HWPL), international peace NGO affiliated with UN ECOSOC, is spreading the culture of peace all over the world. The peace of wind is blowing throughout the world~. As you know expectations for peace on the Korean Peninsula have been rising since The Panmunjom Declaration for Peace, at 2018 inter-Korean summit. the international society is throwing back the question of 'peace'. At this point, the international society is throwing back the question of 'peace'.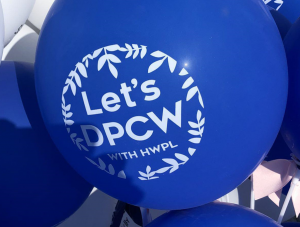 HWPL has been carried out to advocate peace-building led by grassroots such as youth, citizens, civic groups, and media to call for all to work together as peace messengers. Peace Letter of the HWPL is to become a issue.
---
To call for all members of society
to work together as peace messengers
---
The peace of

wind

is blowing 
– ALL OVER THE WORLD –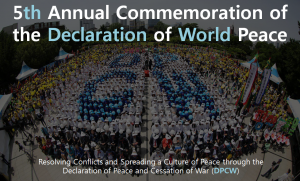 "Many leaders in many parts of the world showed their support for peaceful unification of Korea. We received 'peace letter' that support the idea from students and youth in the countries we visited. By liquidating the past of pointing guns to kill each other, Korea should stand as a country of peace. I am certain that, as all humanity desires peace, the Korean Peninsula and globe will indeed see peace," said Chairman Man Hee Lee of HWPL.
Peace
Letter

to Presidents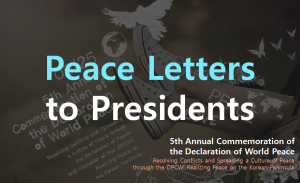 International Peace Youth Group (IPYG), has collected 'peace letters' from government officials, social representatives, and citizens. Young people, from 84 cities in 50 countries, write peace letters to presidents of each country. How long? Until the president writes signature at DPCW! The wind of peace is already blowing all over the world. 'World peace and restoration has begun at the same time this declaration is proclaimed.', the Declaration of world peace. If 4,600,000 young people (IPYG) cry out for peace, what do you think will happen next? There will be an enormous wind.
"Citizens have the power to urge political leaders to establish peace in our times. If leaders have love for the world, nations, and people, they must come together to work for the establishment of international law for peace." added Chairman Lee
Peace

is up to you

:0

Good luck

!