CHICAGO PEACE WALK

– Calling For An End To Gun Violence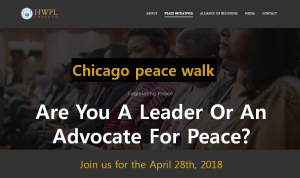 CHICAGO, Illinois – April 28, 2018
Together at the historic, Buckingham Fountain, hundreds will gather, discuss, and mobilize "Calling for an end to gun violence". The culture of peace campaigns were found as a means of working together until peace is finally achieved, and they expect more than 300,000 members to take part in their direct environments.
The official of HWPL Chicago said "We undoubtedly believe, the efforts of the young people of the world today, in pursuit of peace – will remain forever as a never-fading light of life, for all future generations."
Countless young people
I think 'Gun violence' is very dangerous. It is not something that only someone who get hurt could feel. So, I know that there are countless young people all over the world doing campaigns like this. Example are 'HWPL Peace walk' and 'March for Our Lives'. #MARCHFOROURLIVES
#March for Our Lives
– Fight for your lives, before it's someone else's job. Emma Gonzalez
March for Our Lives is a demonstration created and organized by #NeverAgain, a group of students who survived the February 14 shooting at Marjory Stoneman Douglas High School. Its purpose is 'Calling For An End To Gun Violence'. According to the March for Our Lives website, there are more than 800 events across the United States and in cities overseas, including London, Madrid, Paris, Tokyo and Seoul.
---
The whole world is fluctuating
---
You can join
CHICAGO

PeACE walk
CHICAGO

, Illinois –

April 28, 2018
#TogetherForPeace #ANewStart #HighFive #WeAreOne
Official : https://hwplchicago.org/chicago-peace-walk/
Peace

is up to you

:0 Good luck!