2019 HWPL World Peace Summit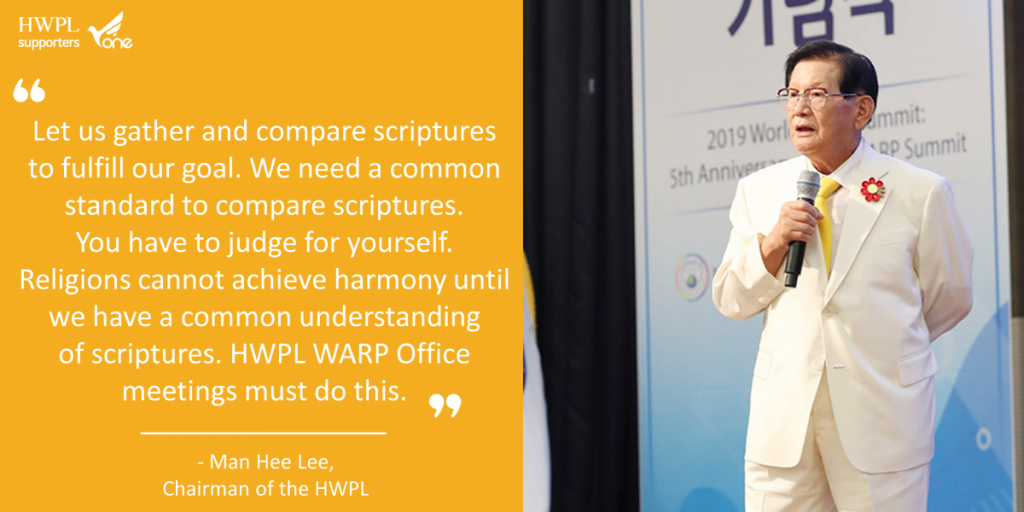 The 5th International Religious Leaders Conference was held at TheK Hotel in Seoul, South Korea on 19 September. Over 1,300 people including religious leaders were in attendance at the conference which was a part of the 2019 World Peace Summit. HWPL is hosting HWPL World Alliance of Religions Peace (WARP) Office meetings and Religion Peace Camps around the world.
It's time to show their achievements and search for ways of improvement. It's not visible, but the world has changed a lot. If you want to see more specific?
HWPL Chairman Man Hee Lee encouraged other religious leaders to join the HWPL WARP Office meetings by saying "let us gather and compare scriptures to fulfill our goal. We need a common standard to compare scriptures. You have to judge for yourself. Religions cannot achieve harmony until we have a common understanding of scriptures. HWPL WARP Office meetings must do this."
WARP Summit: http://bit.ly/2Zi1BDQ
HWPL: http://www.hwpl.kr/en/
HWPL Headquarters e-mail: hwpl@hwpl.kr.
Sign your support for DPCW: http://bit.ly/30lrUdI
Online Peace Letter: http://bit.ly/2P2ZgNj
Teaser1: http://bit.ly/2YX7mMd
Teaser2: http://bit.ly/2ZnWUMW
Peace is up to you 🙂 Good luck!