2018 
HWPL

 World Peace 

Summit

Collaboration for Peace Development: 
Building a Peace Community through the DPCW

'The past does not need to be the future. A new world can begin today. It is the last chance for the peace of humanity.' These sentences come from promotional video of '2018 HWPL World Peace Summit: 4th Anniversary of the WARP Summit.' This video shows very well what kind of mindset when they are dealing with world peace. They think that achieving peace is 'Out Duty that we have to do' of our time at any cost. Can you feel their determination? Thousands of leaders and citizens from around the globe will gather for 3 days in Republic of Korea with the great determination of creating a peaceful world together. I will tell you their HWPL peace quotes with Man Hee Lee.
HWPL

Peace Quotes #5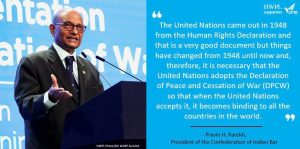 Mr.Pravin H. Parekh, President of the Confederation of Indian Bar and HWPL International Law Peace Committee Chairperson
"Today one country saying 'yes, Chairman Lee I accept your declaration' is not enough, even 10 countries saying this is not good enough. Therefore, we need the United Nations.
In fact, the United Nations came out in 1948 from the Human Rights Declaration and that is a very good document but things have changed from 1948 until now and, therefore, it is necessary that the United Nations adopts the Declaration made by us…so that when the United Nations accepts it, it becomes binding to all the countries in the world.
That is the effort Chairman Lee had been doing and we should all support Chairman Lee in ensuring that this becomes a United Nations document."
HWPL

Peace Quotes #6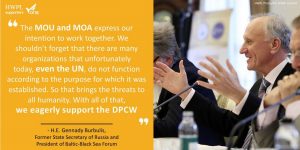 H.E. Gennady Burbulis, Former State Secretary of Russia and President of Baltic-Black Sea Forum
"The MOU and MOA express our intention to work together in this important issue. Sometimes we can think that this problem or question of promoting peace is difficult or sometimes we can think that is very utopian, but we shouldn't forget that there are many international or law organizations that unfortunately today, even the UN, do not function according to the purpose for which it was established. So that brings the threats to all humanity…. We cannot ignore these facts. So, in our work together we should take into consideration this reality. With all of that, we eagerly support the DPCW and we really believe that it is a very important declaration."
HWPL

Peace Quotes #7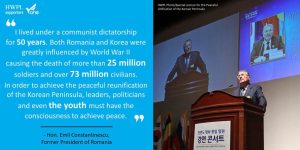 Hon. Emil Constantinescu, Former President of Romania
"I lived under a communist dictatorship that deprived the country and its citizens of freedom for 50 years. People were not allowed to move about freely and the political police monitored their private affairs, invading the privacy of all citizens. Both Romania and Korea were greatly influenced by World War II. This war caused the death of more than 25 million soldiers and over 73 million civilians, as well as created huge economic losses and led to the destruction of many world cultural heritage sites. The atrocities of the two wars in the first half of the 21st century proved to be insufficient for leaders to understand that peace cannot be strengthened only by managing frozen conflicts," explaining the darkest times of Romania.
He then continued by reminding all in attendance of the power of the people who fought for freedom stating, "The incredible lack of fear and the solidarity of people forced the dictator to flee and freedom was gained. In one of history's bright moments, people were willing to sacrifice themselves for the ideals of freedom and democracy. The answer regarding the future of freedom and democracy is the choice of each generation and, in the end, of each of us."
He concluded the lecture by proclaiming, "In order to achieve the peaceful reunification of the Korean Peninsula, leaders, politicians and even the youth must have the consciousness to achieve peace."
Man Hee Lee

Quotes #8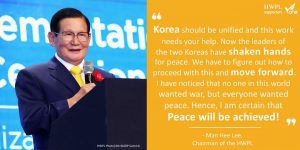 Mr. Man Hee Lee, HWPL Chairman
"Korea should be unified and this work needs your help. Now the leaders of the two Koreas have shaken hands for peace. We have to figure out how to proceed with this and move forward. I think the leaders should hear your excellent presentations and statements from today. I will never forget your suggestions and the efforts that you have shown, and I will make sure everyone sees and hears your messages of peace," promising to continue to make such achievements in the future.
Peace

is up to you

:0

Good luck

!