How to leave summer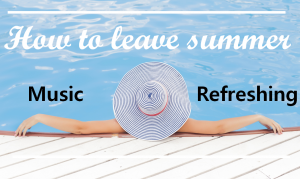 Phew, it's hot, isn't it? Now Korea is so hot. I came to Korea from Australia for a while. When I go out, I feel like I'm melting. Everything is melting! It's like 'the persistence of memory' by Salvador Dali. How to leave summer? Do you know any other method? Take a cold shower and sit in front of a fan, right?  Me, too. Ice cream is so cool! The most cool thing is air conditioner!!! It is real. HAHAHA I recommend 'music refreshing' to you.
---
Music Refreshing!
First is R.A.P You must listen with ice cream and air conditioner!
---
Second is R.A.C It is Remix Artist Collective. Its remix of Odesza's "Say My Name" won Best Remixed Recording, Non-Classical at the 2016 Grammy awards. It's thrilling. You must feel refreshed.
---
There's a rainbow making fun of where my suns afraid to go – Kristoff Krane 'Leave The Summer'
Peace

is up to you

🙂

Good luck

!