North Korea nuclear program :
H-bomb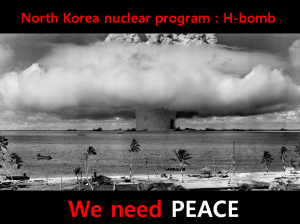 In 2017 September, 5.6 magnitude earthquake occurred at North Korea. Have telephone calls without a break. "is it a nuclear? War? Is it a just earthquake?" That's right. The North's sixth nuclear test took place. What nuclear? It is the hydrogen bomb. It has tremendous destructive power. That is 3,800 times of atomic bomb blast on Hiroshima. Also it lead to condemnation from around the world. North Korea nuclear.
---
Why does North Korea continue to
push

?
---
The Need for Peace
I sometimes have an anger at North Korea. If they hurt innocent people, I can't forgive them. But at times I thank for North Korea. They made us recognize the need for peace. Our hearts will be one before long. We need practical and substantive approach for peace. It is not a small thing, Peace. I have full of mind for peace! So, I find out what we can do! I find "Peace Messengers Together" 'Legislate Peace Campaign' was active to present DPCW to the United Nations.(campaign page) Now 300,000 people is moving fast. For Peace!
World peace and restoration has begun at the same time this declaration is proclaimed. Thank you. – Chairman of HWPL
Peace

is up to you

:0

Good luck

!