2018 
HWPL

 World Peace 

Summit

Collaboration for Peace Development: 
Building a Peace Community through the DPCW

'The past does not need to be the future. A new world can begin today. It is the last chance for the peace of humanity.' These sentences come from promotional video of '2018 HWPL World Peace Summit: 4th Anniversary of the WARP Summit.' This video shows very well what kind of mindset when they are dealing with world peace. They think that achieving peace is 'Out Duty that we have to do' of our time at any cost. Can you feel their determination? Thousands of leaders and citizens from around the globe will gather for 3 days in Republic of Korea with the great determination of creating a peaceful world together. I will tell you their HWPL peace quotes with Man Hee Lee.
HWPL

Peace Quotes #9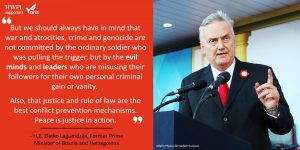 H.E. Zlatko Lagumdzija, Former Prime Minister of Bosnia and Herzegovina
"But we should always have in mind that war and atrocities, crime and genocide are not committed by the ordinary soldier who was pulling the trigger, but by the evil minds and leaders who are misusing their followers for their own personal criminal gain or vanity.
Also, that justice and rule of law are the best conflict prevention mechanisms. Peace is justice in action."
HWPL

Peace Quotes #10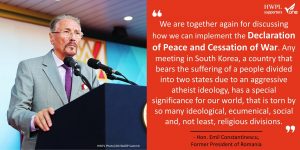 Emil Constantinescu, Former President of Romania
"We are together again for discussing how we can implement the Declaration of Peace and Cessation of War. Any meeting in South Korea, a country that bears the suffering of a people divided into two states due to an aggressive atheist ideology, has a special significance for our world, that is torn by so many ideological, ecumenical, social and, not least, religious divisions."
Full speech: http://hwpl.kr/en/news/view/181101348/0/WhatPresidentsSayaboutSustainablePeaceI
Man Hee Lee

Peace

Quotes

 #11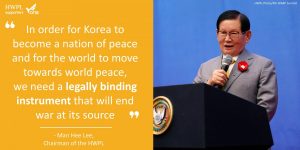 In 2018 HWPL World Peace WARP Summit, Mr. Man Hee Lee said strongly "Now is the time for the leaders of the two Koreas to join hands and declare peace. Also, it is a critical time for the global community to return to its original state, which is a world of peace."
He then continued, "In order for Korea to become a nation of peace and for the world to move towards world peace, we need a legally binding instrument (DPCW) that will end war at its source," calling for everyone to work together to bring peace on the Korean Peninsula and end war around the world as soon as possible.
Peace

is up to you

:0

Good luck

!