Have you seen Bong Joon-ho's parasite movie? I first knew when Professor Parasitology introduced me that there was a movie about parasites. At that time, there were hairworms, roundworms and pinworms on the screen. When the Horsehair (Gordian worm) enters the body of a praying mantis, it jumps into the water and kills itself. The reason is that the parasite becomes an adult, lives and lays eggs in the water. So I thought it might be a disaster movie where people all become zombies like Resident Evil.
And I was even more excited to hear that it won the PALME D'OR at the 72nd Cannes Film Festival. It is the first Korean movie to win in Cannes. According to a local report from the Cannes Film Festival, "Parasite" received two rounds of applause comparable to a standing ovation from the audience during its official screening. The first round of applause broke when Song Kang-ho picked up something from the trash can, and the second round of applause when a figure in the movie struck with feet. After the screening, a standing ovation followed the custom of the Cannes Film Festival, which extended unexpectedly for Eight minutes.
Song Kang-ho: "How long do I need to keep clapping?"
Bong Joon-ho: "Yeah, I'm hungry."
This conversation came out in the middle of applause, and it's so funny to me. It was also a big talk on social media. Also, it was the 22nd unanimous award of the jury in Cannes history. "It's such a unique experience. It's so unexpected," Iñárritu raved about "Parasite."
He said "It took all of us sharing our experiences. We shared the mystery of the unexpected way this film took us through different genres and mixed them and spoke in a funny, humorous, tender way with no judgment of something so irreverent and urgent. It's so global but in such a local film. We were all fascinated by it since we saw it. It kept growing and growing. It was a unanimous decision."
Reference:
https://www.indiewire.com/2019/05/cannes-jury-parasite-palme-dor-unanimous-decision-1202144858/
The Life of the Lower Classes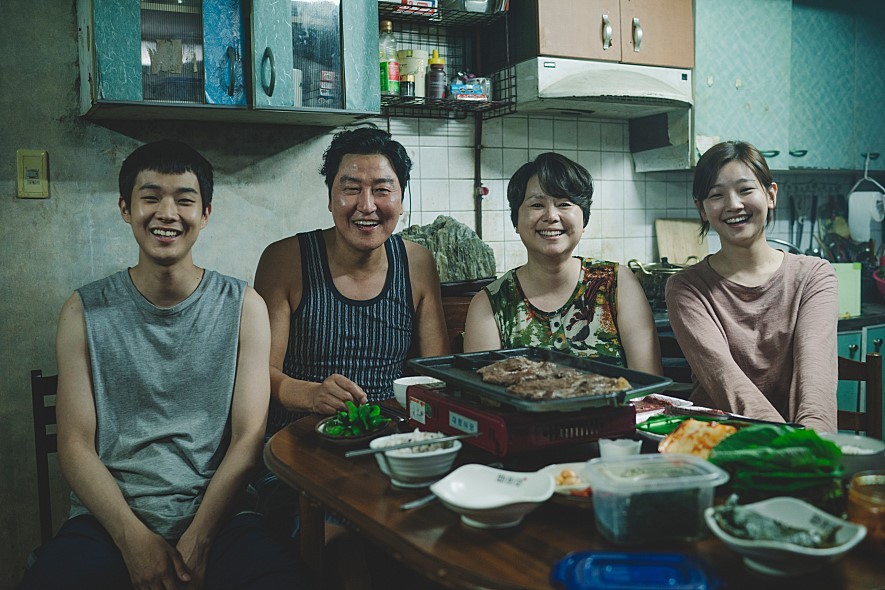 In the late 2010s, the Cannes Film Festival's propensity is found to be paying attention to "the story of families belonging to the socially vulnerable." It is also analyzed that this tendency led to the award of parasites. In fact, this is what I want to talk about.
In order to meet the upper class in the film, you have to keep going up, the lower class lives under the radius, and the camera keeps coming down. Many of the devices with messages in the movie hurt more. One is a "smell" that reveals a lower class. Can't get away and stimulate the upper class. Also, "plan" also throws a message. In the movie, Kitaek claims that "No plan is the plan." Eventually, with a wild plan, the movie ends like that. The reality is still a mess.
After the movie, I felt very depressed. It was more sad because it was often around us. The gap between the haves and have-nots will be greater across the globe. The world's richest 1 percent, those with more than $1 million, own 45 percent of the world's wealth. Adults with less than $10,000 in wealth make up 64 percent of the world's population but hold less than 2 percent of global wealth. (more info) How close are you to this?
"Where does peace flow?"

But I know that I'll soon forget these facts. What is peace? It's really hard to practice and try. But there are still people who try to make peace on their feet. One of them, one of them, got together, became a small stream, became a river, and became a big waterfall. No one can stop it now. This huge flow will soon transform the whole world. Those who risk their lives for peace, they are HWPL.
"Where does peace flow?" Peace certainly flows from bottom to top. If citizens all over the world were to become one voice, who could stop it? The president will also have to listen to the voices of citizens. That's what HWPL is doing now, and it's doing great. Someday that one powerful force will be known to all over the world, and you will be surprised. If you want to know more about HWPL, look at the other posts.
Official page: http://hwpl.kr/en/
Youtube: https://www.youtube.com/c/hwpl
Instagram: https://www.instagram.com/hwpl/
Facebook: https://www.facebook.com/hwpl.kr/
Twitter: https://twitter.com/hwpl_kr
Peace is up to you :0 Good luck!