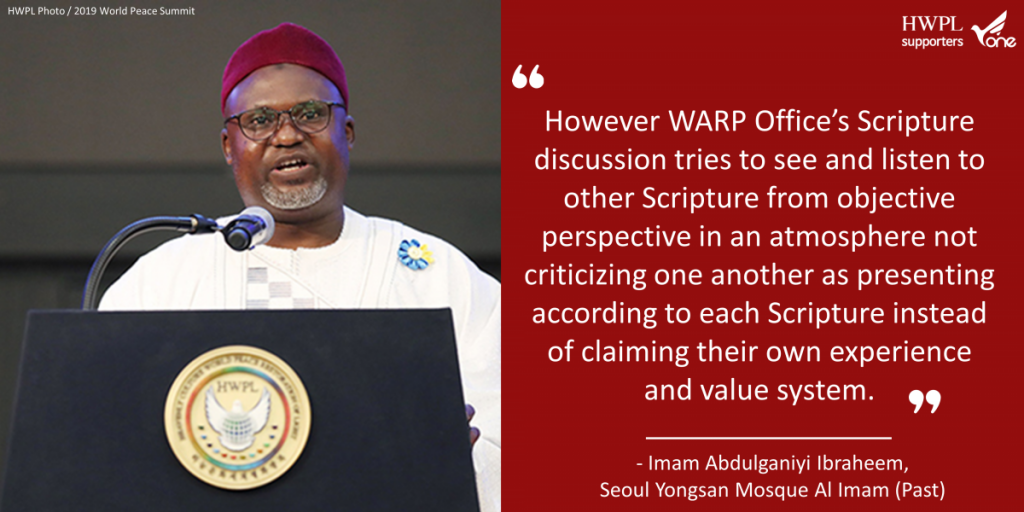 The 5th International Religious Leaders Conference was held at the 2019 World Peace Summit. It is to present their achievements and search for ways of improvement.
The religious leaders conference was held in different regions around the world and South Korean religious leaders also came together under the topic of "Religious Peace through the Spread of a Culture of Comparative Scriptural Studies". All the participants are an example to other religious people in ending religious conflicts and achieving peace.
Imam Abdulganiyi Ibraheem who has been at Seoul Yongsan Mosque Al Imam for the past 20 years and a participant of the WARP Office meetings since 2018 said, "however WARP Office's Scripture discussion tries to see and listen to other Scripture from objective perspective in an atmosphere not criticizing one another as presenting according to each Scripture instead of claiming their own experience and value system."
Ref. http://hwpl.kr/en/news/view/190927434/0/2019ReligionSession
Peace is up to you :0 Good luck!