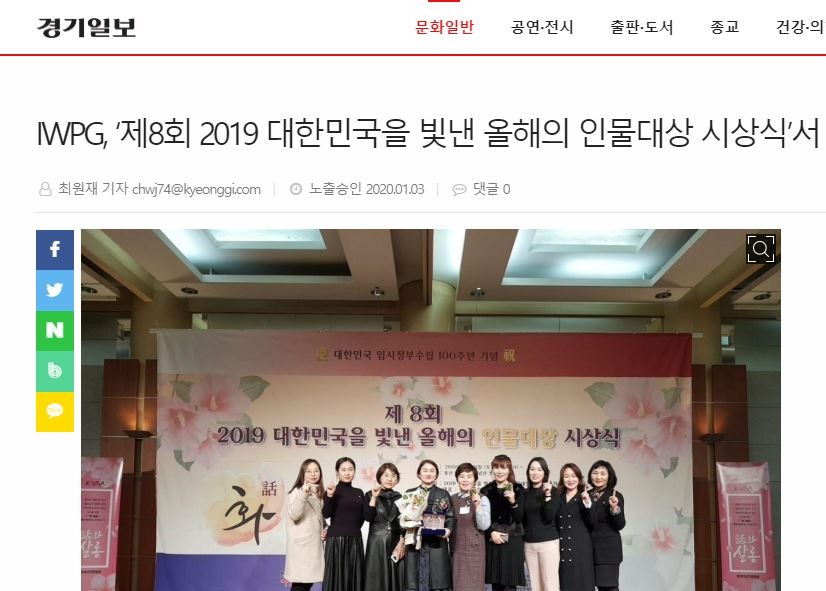 The Seoul and South Gyeonggi branch of International Women Peace Group (IWPG) won a thank-you medal at the 8th Annual Awards for 2019 Person of the Year. This award is given to those who shine on the Republic of Korea. It was held at the Convention Hall of Kim Gu Memorial in Yongsan on December 21.
The event was held successfully with winners from all walks of life and some 300 celebratory guests, as a meaningful occasion to look back on the year. It is to mark the 100th anniversary of the establishment of the Provisional Government of the Republic of Korea with those who contributed to national security and peace.
Park Young-sook, president of the Korean Women's Press Association, said, "The winners and the VIPs are opinion leaders of this era and we hope that they will become leaders who will lead the nation and serve society by building strong friendship with each other through the ceremony."
At the event marking its 8th anniversary this year, the Seoul and South Gyeonggi of IWPG received a plaque of appreciation from the organizers in recognition of their contributions to protecting women's rights and rights. Lee Kyu-ae, branch leader, said, "Let's all women from around the world become one and take the lead in achieving world peace and unification of the Korean Peninsula."
The IWPG is a global female NGO registered with the United Nations Economic and Social Council (UN ECOSOC) and the U.N. Department of Global Communications (UN DGC), actively carrying out activities to support and urge for the international law on peace, education on women's peace, network of peace and culture around the world.
Reference:
http://www.kyeonggi.com/news/articleView.html?idxno=2222237
Peace is up to you :0 Good luck!