25 May, 2017 Peace Walk in the field
Wow It's a very hot day but my heart is cool. Now that I have had their say, It's like cold water. I Did you have lunch well? I'm full!!! Although I didn't eat a lot of rice, this impression is really feeding my soul. Did you listen passionate shouts? We are one!!!!! Cry out for Peace!!! The energy in the field here is amazing!!! I want to be with you.
---
HWPL chair man : Man-hee Lee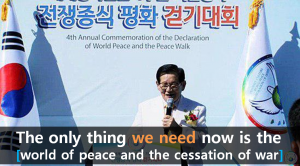 International law
If the current international law is perfect, we didn't legislate an international law. All young men want peace, not war. Everyone should agree this international law proposed in the UN.
Peace
Not bring peace to someone who stand still. We have to make peace. If incumbent presidents aren't doing works of peace, future generations would have a bone to pick with presidents. In Peace! We Are One!
Religion
Religion should be one and country, global village should also be one!
---
IWPG director
Nothing can stop the orders of the sky and it is the hope of mankind. I come here everything behind because Solution of Peace is here! Mothers are hope for peace! If you believe in a can-do attitude, you can do it!
---
IPYG manager
Bad leadership stop change, but also start a war and violence. Youth is awakening! If we work together, we can make a better world. Although a stumbling block is here, we have a hope! We count on Lee's leadership! Youth!!! has your hope!!! 
---
Are

you

curious

? Hold the line, please.
Peace

is up to you.

🙂

Good luck

!

Official page : http://hwpl.kr/en/project/peaceWalk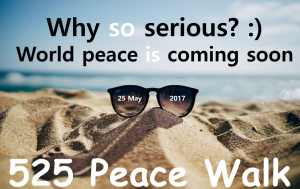 Promotional video :
1. 4th Annual Commemoration of the Declaration of World Peace_Promo | HWPL
2. 4th Annual Commemoration of the Declaration of World Peace_Typography | HWPL