What 

though life 

conspire to cheat you
A.S. Pushkin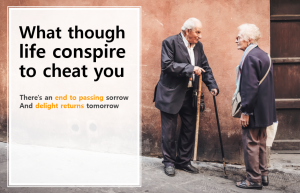 What though life conspire to cheat you,
Do not sorrow or complain.
Lie still on the day of pain,
And the day of joy will greet you.
Hearts live in the coming day.
There's an end to passing sorrow.
Suddenly all flies away,
And delight returns tomorrow.
---
Let It Be

Forgot

ten
Let it be forgotten, as a flower is forgotten,
Forgotten as a fire that once was singing gold,
Let it be forgotten for ever and ever,
Time is a kind friend
, he will make us old.
If anyone asks, say it was forgotten
Long and long ago,
As a flower, as a fire, as a hushed footfall
In a long forgotten snow.
---
Life
Life, believe, is not a dream
So dark as sages say;
Oft a little morning rain
Foretells a pleasant day.
Sometimes there are clouds of gloom,
But these are transient all;
If the shower will make the roses bloom,
O why lament its fall?
Rapidly, merrily,
Life's sunny hours flit by,
Gratefully, cheerily
Enjoy them as they fly!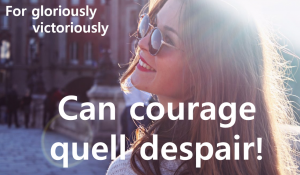 What though Death at times steps in,
And calls our Best away?
What though sorrow seems to win,
O'er hope, a heavy sway?
Yet Hope again elastic springs,
Unconquered, though she fell;
Still buoyant are her golden wings,
Still strong to bear us well.
Manfully, fearlessly,
The day of trial bear,
For gloriously, victoriously,
Can courage quell despair!
---
Peace

is up to you

🙂

Good luck

!