History of Zimbabwe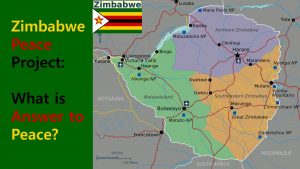 Things not all that rosy in Zimbabwe. On 18 June 2017, in Ward 23, Chitungwiza Zanu PF youths allegedly assaulted MDC-T youths. The MDC-T youths were meeting at the home of Chitungwiza Deputy Organising Secretary of the Women's Assembly, Anna Mutara when they were attacked. Tension is brewing, as it was in the past.
From 12 December 1979 to 17 April 1980, Zimbabwe Rhodesia was again the British colony of Southern Rhodesia. The Rhodesian Bush War—also known as the Second Chimurenga or the Zimbabwe War of Liberation—was a civil war that took place from July 1964 to December 1979 in the unrecognised country of Rhodesia.
On 18 April 1980, Southern Rhodesia became the independent Republic of Zimbabwe. Conflict today remains rooted in disputes over national power, economic hardship and pre-colonial disputes which have not been resolved. How does Zimbabwe, with its sad memory, maintain its peace?
Zimbabwe Peace Project
They know the value of peace more than anyone else. So, Zimbabwe Peace Project (ZPP) was established in 2000 by a group of non-governmental and church organisations. Since inception, ZPP has produced timely national monthly monitoring reports on violence and human rights violations. The VISION of ZPP is that 'A Zimbabwe where there is Peace, Justice, Dignity and Development for all.' Other peace organizations are the 'African Union', 'Silveria Hourse' and 'Catholic Commission for Justice and Peace in Zimbabwe (CCJPZ).' However someone is using war for their own benefit, there are many people who are trying to make peace.
MISSION
To work for sustainable peace through monitoring,
documentation, advocacy and community peace building
interventions with our members and partners
CORE/FOUNDATION VALUES
♦  Respect for Human & Women's Rights
♦  Respect & Tolerance of Diversity
♦  Justice & Public Accountability
♦  Commitment to the vulnerable and Marginalised
Reference: https://www.zimpeaceproject.com/about-us/
---
Peace is not only the absence of war; and peace
could also be defined as the state of the mind
---
The Calls of the citizens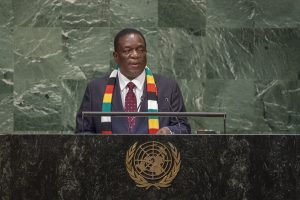 While President Emmerson Mnangagwa recently told the United Nations General Assembly, that he was ready to engage the opposition, for possible working together; on the ground, nothing seems to be happening. Apparently, opposition leader, Nelson Chamisa recently told a media briefing that prioritising nation and peace building is the prime ingredient for national prosperity. But critics say that their speeches were just words and the leaders have no real will. Zimbabweans are stressed, and things are not working out, most citizens have been calling on the national leaders to find the Answer to Peace.
While, the calls are worthwhile, the media has been urged to play key role. A prominent political commentator, Elder Mabhunu agrees, says "The media should play one of its legislative mandate, that is agenda setting, in promoting unity and peace, the key element in nation building and sustainable development." He says the press should lead the pack in causing a paradigm shift towards national development through reporting on peace initiatives. He continued, "Gone are the days when only conflict reporting was deemed to be real news. Peace news reporting should now take lead."
Reference: https://zwnews.com/unity-of-purpose-culture-of-peace-needed-in-zimbabwe/
---
"We must always remember the great power that the media has to promote war,
just as it has to promote peace. Today's wars no longer occur in isolation within a state.
Whether it's terrorism or a refugee crisis it is truly a global problem,
and for this reason the solution must also be global."
---
Peace Initiative


International Peace Media Community
According to the Heavenly Culture, World Peace, Restoration of Light (HWPL), HWPL chairperson Man Hee Lee recently challenged journalists who are the custodians of information as peace messengers. He said the press should use the power of influence it has, to shape leaders' perceptions. "If journalists dedicate themselves to peace building efforts, the thought of people especially politicians will change." I think it is the Answer to Peace.
"Peace Initiative" is a global journalist network in efforts of facilitating a culture of peace as contribution to conflict resolution and peace building through press freedom and freedom of information stipulated in the UN resolutions and international agreements. Individual journalists and media agencies affiliated with "Peace Initiative" dedicate to spreading news of peace to enhance human rights and protect democracy.
Official: http://peaceinitiative.net/
2nd Conference for Global Peace
Media Network
2018 HWPL World Peace WARP Summit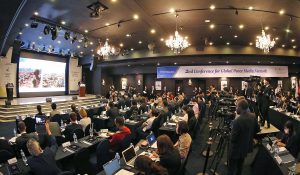 Lastly Mr. Ian Seo, Affiliation Chief Manager of the International Press Department of HWPL HQ, emphasized, "The ultimate goal of the DPCW is to create a firm foundation of law that binds every citizen and nation together, which has never existed on this planet until now."
He then continued, "This kind of use of force makes it more difficult to resolve conflicts and establish peace and security in that region. Therefore, we need a strong legal instrument such as Article 1 of the DPCW. I fully agree with the principles of this declaration, since there is no alternative to peace negotiations. We can approach the resolution of such complex problems step by step through a legal instrument based on the principles of the DPCW."
He also gave his heartfelt support for the initiative, stating, "In this context, I am glad that HWPL and journalists from different countries considered the need to create a "Global Peace Media Network" in order to not only inform the public about the existence of conflicts, but also to outline ways to resolve them."
He explained "There has only been one same answer from Chairman Lee regarding all the conflicts around the globe. It is a person with the spirit of peace. The United Nations, the DPCW, international cooperation, and the participation of civil society are all necessary, but it is the people who are at the center of these instruments. We have come to realize that the collective strength of each person's will creates the era of peace, and that the spirit of peace we want to achieve is the driving force to make our world one under the title of peace. Many journalists came to say that it is their mission to make a world of peace by developing this spirit through spreading the message of peace to the world. The very result after a series of consultations is the "Peace Initiative" as you can see right now."
He also explained, "'Peace Initiative' is a platform for journalists from different countries to spread the news of peace throughout the world. As a teaching material to understand peace, as a seed to be planted in every part of the world, your will and desire for peace is the very result of what we can and must do for our present and future generations."
Reference: http://hwpl.kr/en/news/view/180920339/0/2ndConferenceforGlobalPeaceMediaNetworkInternationalPeaceMediaCommunity%E2%80%9CPeaceInitiative%E2%80%9D
Peace is up to you :0 Good luck!