Ernest Hemingway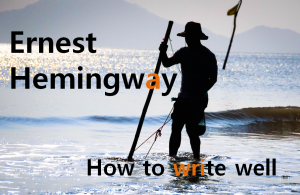 Who is Ernest Hemingway? He is famous for manly style. We already know 'The Old Man and the Sea', his most popular work. So he earned him a Pulitzer Prize in 1953, and in 1954 Hemingway won the Nobel Prize for Literature "for his mastery of the art of narrative". Hemingway called his style the Iceberg Theory: the facts float above water. The supporting structure and symbolism operate out of sight. Hemingway believed the writer could describe one thing though an entirely different thing occurs below the surface. More surprisingly, About 70 percent of the sentences are childlike simple sentences. He made no pretence.
"All you have to do is write one true sentence. Write the truest sentence that you know." – Hemingway
How to write well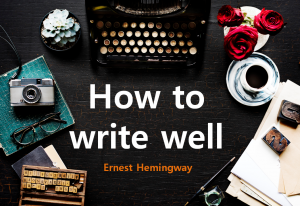 In the spring of 1934, Arnold Samuelson who is feeling discouraged over his writing go to find his mentor, Ernest Hemingway. He was impressed by the 22-year-old's seriousness and dedication. In a 1935 article for Esquire magazine, Hemingway shared some of this advice.
1. "Always stop when you're going good"
"How much should you write in a day?" Hemingway answered.
"The best way is always to stop when you are going good and when you know what will happen next. If you do that every day when you are writing a novel you will never be stuck. That is the most valuable thing I can tell you so try to remember it."
2. "Block out negative thoughts"
How can writers stop themselves from worrying about whether they can maintain the creativity?
Once you are into the novel it is as cowardly to worry about whether you can go on to the next day as to worry about having to go into inevitable action. You have to go on. So there is no sense to worry… As soon as you start to think about it stop it. Think about something else. You have to learn that to write a novel. The hard part about a novel is to finish it.
3. "Study the greats"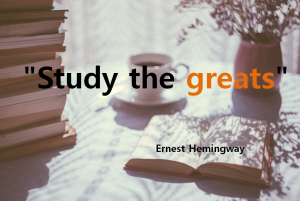 Hemingway gave Samuelson a long list of books to read and told.
[A writer] should have read everything so that he knows what he has to beat… The only people for a serious writer to compete with are the dead that he knows are good. It is like a miler running against the clock rather than simply trying to beat whoever is in the race with him. Unless he runs against time he will never know what he is capable of attaining.
4. "Sharpen your observational skills'
I think you already have heard many times. He said "Watch what happens today." If we get into a fish see exact it is that everyone does. If you get a kick out of it while he is jumping remember back until you see exactly what the action was that gave you that emotion. Whether it was the rising of the line from the water and the way it tightened like a fiddle string until drops started from it, or the way he smashed and threw water when he jumped.
…Then write it down making it clear so the reader will see it too and have the same feeling you had. That's a five finger exercise.
5. "Practice empathy"
He said, "Then get in somebody else's head for a change. If I bawl you out try to figure out what I'm thinking about as well as how you feel about it. If Carlos curses Juan think what both their sides of it are. Don't just think who is right…As a man you know who is right and who is wrong… As a writer you should not judge. You should understand…Listen now. When people talk listen completely. Don't be thinking what you're going to say. Most people never listen."
"Write the best story that you can and write it as straight as you can." –Hemingway
Peace

is up to you

:0

Good luck

!