The
ONE

Thing : Apply to me

"What's your one thing?" This book started by One focusing question. Before the review, I came to think about myself while reading a book. I have a momentum to read this book. There was always something to be said among those around me who knew me. What's so much to do? Isn't it hard? Each time I answered, "I must not miss even one of them. I can try harder. There must be something to learn from this! This experience will give me a lot of strength later!" But people around me trusted me and also worried about me. Do you know what my problem is?

"I failed to do anything important that I have to do.
I have tried hard but I have no result."
Same as me : Throw away! Choose! Focus!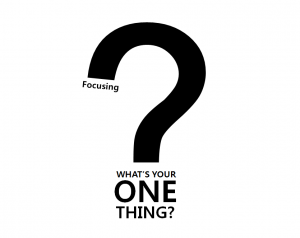 The writers of this book are Gary W. Keller and Jay Papasan. "If everyone has the same number of hours in the day, why do some people seem to get so much more done than others? How do they do more, achieve more, earn more, have more?" The answer is that they do not work more and more. They are throwing away, choosing and focusing! Oh no, they do fewer things than others. They do the most important things first efficiently. The authors said, "Multitasking is a lie" and "Long hours spent checking off a to-do list and ending the day with a full trash can and a clean desk are not virtuous and have nothing to do with success." In fact, the most important thing remains. Apply it to me! It is my one thing! It takes 66 days to form Strong One habit.
Think Big! Throw away! Choose by priority! Focusing!
I will come back after 66 days.
"Your next step is simple. You are the first domino."
― Gary Keller, The ONE Thing
Peace

is up to you

:0

Good luck

!