South Korean film Parasite has been named best picture at this year's Oscars, becoming the first non-English language film to take the top prize. – BBC
Only 11 non-English language films have ever been nominated in the category. The cast and creative team for "Parasite" took the stage on Sunday to accept the award for best picture, capping off what was a huge night for the film and a significant night for global cinema. – CNN
On Monday, the director Bong Joon Ho's "Parasite," a genre-defying film about class warfare, won that award and three other Oscars, including best director. It was a historic moment for both the Oscars and South Koreans
– NY times
The Korean people were all really happy and excited. I can't believe it!
Bong Joon Ho, Oscars Best Director
In his acceptance speech of Best Director, he said "Thank you. After winning best international feature, I thought I was done for the day and was ready to relax.
Thank you so much. When I was young and studying cinema, there was a saying that I carved deep into my heart, which is that 'The most personal is the most creative.'
That quote is from our great Martin Scorsese. When I was in school, I studied Martin Scorsese's films. Just to be nominated was a huge honor. I never thought I would win.
When people in the U.S. were not familiar with my films, Quentin [Tarantino] always put my films on his list. He's here, thank you so much. Quentin, I love you.
And Todd [Phillips] and Sam [Mendes], great directors that I admire. If the Academy allows, I would like to get a Texas chainsaw, split the award into five and share it with all of you.
Thank you. I will drink until next morning, thank you."
Producer Kwak Sin-ae also said: "I'm speechless. We never imagined this to happen. I feel like a very opportune moment in history is happening right now."
What's the difference? Why did this happen?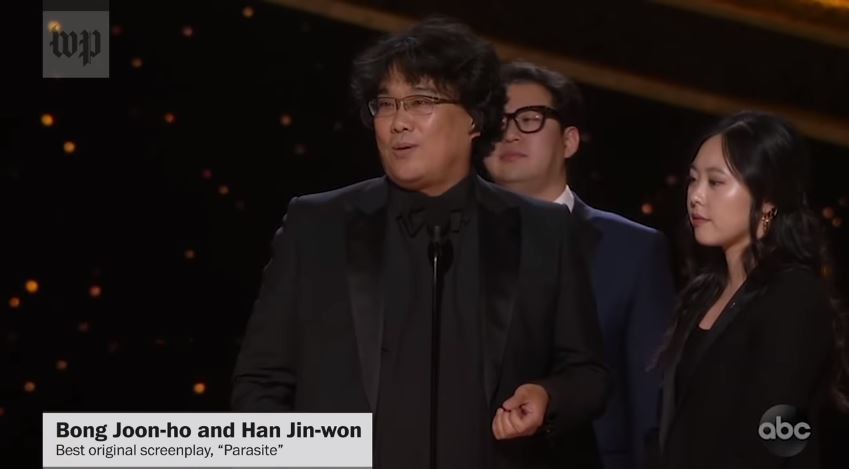 I watched a parasite movie myself and even wrote reviews, but I couldn't really feel the difference. I think, "Is this enough to attract global attention and awards?"
From my point of view, I saw nothing but the contrast between the life of the rich and the lower class, the detailed elements hidden in it and some interesting parts. I'm trying to figure out which part of parasite has won so many awards. I will post a more analytical posting next time.
Ah, and Congratulations. Director Bong Joon Ho!
Peace is up to you 🙂 Good luck!