Volunteer is a
heart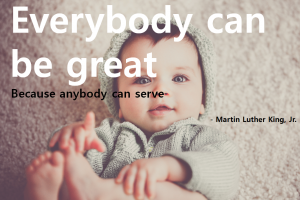 "Everybody can be great. Because anybody can serve. You don't have to have a college degree to serve. You don't have to make your subject and your verb agree to serve…. You don't have to know the second theory of thermodynamics in physics to serve. You only need a heart full of grace. A soul generated by love."
~Martin Luther King, Jr.
"Service to others is the rent you pay for your room here on Earth." — Muhammad Ali
"Volunteers do not necessarily have the time; they just have the heart." — Elizabeth Andrew
Volunteer
inspirational

quotes
"Only a life lived for others is worth living." — Albert Einstein
"What is the essence of life? To serve others and to do good." — Aristotle
"We make a living by what we get, but we make a life by what we give." — Winston Churchill
"The unselfish effort to bring cheer to others will be the beginning of a happier life for ourselves." — Helen Keller
"Life's most persistent and urgent question is, What are you doing for others?" — Martin Luther King, Jr.
Peace

is up to you

:0

Good luck

!