Youth can change the world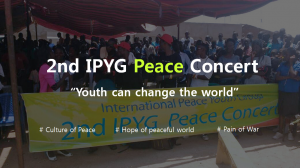 What is the situation of South Sudan? Conflicts and disputes have consistently occurred in South Sudan. It is because of politics and struggles for power. It is very harsh reality. What do the children here think? Can they laugh in the war? Adults should protect our children. So many people are longing for and looking towards a future of peace. Peace Festival! Then, what is the role of the youth in achieving peace under these situations?
What role? Youth should put effort into making it known to all people that they want peace and encourage everyone to have a heart that loves peace. For this very purpose, on March 17, 2018 in Juba, South Sudan, the 2nd IPYG Peace Concert was held by Junub Open Space and IPYG. Its purpose is to to spread a culture of peace in accordance with Article 10 of the Declaration of Peace and Cessation of War (DPCW).
2nd IPYG
Peace

Concert : Peace Festival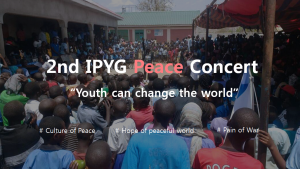 At Peace Concert, numerous colorful performances were able to spread a culture of peace to all citizens in Juba. The event is starting with the traditional dance of South Sudan. The theme is the hope of having a peaceful world and the pain of war. They use 'Song, Poem and Drama'. In between these programs, prominent figures delivered speeches to convey their heart for peace in the minds of all Juba citizens. Around 3,000 people participated in the concert. It is including government officials, principals, and directors of non-governmental organizations (NGOs).
United as One under the Culture of Peace
  One participant said, "I'm experienced a truly peaceful world without war." He hope for the day when this event becomes the best peace festival not only in Juba but in all of South Sudan.
President of Junub Open Space, who prepared the event said, "Thanks for the work. The concert was so beautiful. I can feel how much we stand for peace. We have the courage to pursue peace in South Sudan".
Executive Director of the People's Empowerment Center South Sudan also stated, "Thanks for supporting the carrying out of peace events where the country needed it most. We would like to extend such campaigns for peace outside Juba".
Peace

is up to you

:0

Good luck

!