Father of advertising : David Ogilvy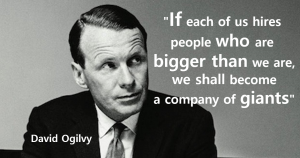 Who is David Ogilvy? He is known as the father of advertising. Wandering about library, I read his book, 'Confessions of An Advertising Man'. I am very interested in advertising. When I saw the flow of advertising world, he made a giant leap for advertising. First, he set up basic principles about 'What is Good advertising tips?'. Second is the research. These rules is not based on just Ogilvy's feelings. Thoroughly it is based on research which Ogilvy's company did. His company is the Ogilvy & Mather. He is famous for the prime mover in the company's rise to international success. Third, I think his values make it possible. I will say more about Third & his quotes.
Good advertising tips : Life Values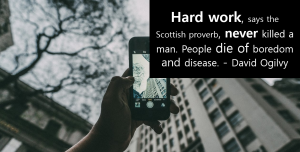 Values denote the degree of importance of some thing or action(wiki). It is closely related with his Life. Different from his late success, he drop out of Oxford University. When he was a sophomore, his father's business was badly hit. How long do he have part-time jobs? He had not a good career up to 39. 39!!! Chef, stove seller, researcher of Gallup. When he was 39, he decided to go 'advertising world'. Because he think it is interesting. Surprisingly, he started to succeed fast! Why? His experience makes it possible. He learned leadership from one chief. He learned the need to research from Gallup. These make difference. Next, his quotes will show you his values.
David Ogilvy's quotes
"If each of us hires people who are smaller than we are, we shall become a company of dwarfs. But if each of us hires people who are bigger than we are, we shall become a company of giants"
"Hard work, says the Scottish proverb, never killed a man. People die of boredom and disease. There is nothing like an occasional all-night push to enliven morale – provided you are part of the push. Never leave the bridge in a storm."
"Set yourself to becoming the best-informed person in the agency on the account to which you are assigned. If, for example, it is a gasoline account, read books on oil geology and the production of petroleum products. Read the trade journals in the field. Spend Saturday mornings in service stations, talking to motorists. Visit your client's refineries and research laboratories. At the end of your first year, you will know more about the oil business than your boss, and be ready to succeed him. Most"
Peace

is up to you

:0

Good luck

!