The People of Delivery 
Do you know 'The People of Delivery'? Oh God, what does it mean? Is Delivery like a bullet? It's a Food delivery business, called 'Food-tech' in Korea. Woowa Brothers is running! Its name means 'Elegant' and 'Wow'. They are the most influential in Food delivery businesses. How can? Their start is very small in 2010. It's all that few people developed a delivery smartphone application. How could they grow like now? The company had 25.7 million dollars in 2016. It's unbelievable! If you see a promotion video, you may be able to know the 'Marketing Secrets'.
Marketing Secrets
You know that, right? It is simple and funny. Woowa Bros's advertising is so funny that people share their happiness through social network services (SNS). Word of Mouth is spreading out in a big way. So, they got gigantic advertising impact without spending a lot of money. So the second can't keep up with Woowa Bros. 김봉진 CEO said, "The first class talks 'Culture', the second talks ' function". He said, "Company's mission, Identity is the most important" 배달의민족(Baedalminjok = mean The People of Delivery) targets the youngest members. They order food in a meeting, not others.
Kitsch & B-Culture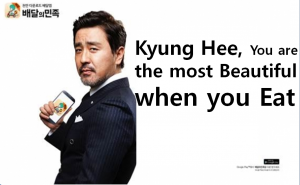 Too many, but I give you a one example. It is really fun. They astonish Korea! It is 'Kyung Hee project' Kyung Hee is just a name.  They made advertising foster like right.
How do people react? All Kyung Hee in korea were tagged in Facebook. They parody this foster with their name. So, Woowa Bros put up a poster on 100 buses with different names. How do people react? They pictured each other and tagged their bus on that their name was written. They are pretty much occupied with smile. Woowa Bros was flooded with inquiries. "Please, put my name!" So, they started '1000 Kyung Hee project'. They send poster with their name to each of them! People really like it. More info?
---
Is it funny? It's a marketing
secret
---
Peace

is up to you

🙂

Good luck

!