Candlelight Vigil in Korea : "A country belongs to the people"

Now in Korea candlelight protests were steadily being held. We can see many people. There were mothers dragging a stroller, families coming hand in hand, middle and high school students and Elder people who come with friends. It is strange enough to not come. You can tell how much hot the atmosphere is, is it right?
How many are there?

1,000,000 in  Gwanghwamun Gate.
Really a large number of people gathered. But I don't know well about politics. I want to emphasize the meaning in that many people gathered.
Mature Sense of Citizenship

But Candlelight Vigil is peaceful. Violent demonstration can occur but mature sense of citizenship stop it. There are citizens who pick up some trash and who cry out to protect police line.
High Level of Rally Culture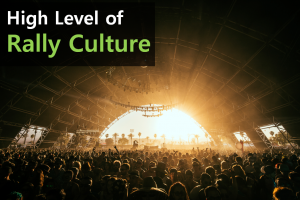 Before the violence, they satirizes society. The whole town is in festive mood. Many musicians came out and performed together. Celebrities are making comments as well. Every kind of parody also are constantly made. Now new culture is being made. I'm looking forward to the future. 🙂
Sovereignty rests with the People of the Republic of Korea.
All Power comes from the People.
– Article 1, Paragraph 2 of the Republic of Korea Constitution.