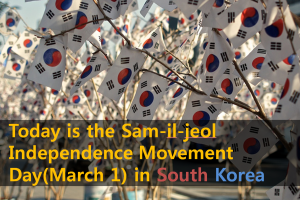 Today is the Sam-il-jeol Independence Movement Day(March 1) in South Korea. Do you have any independence day in your countries? In fact, when I just lived only in South Korea, I can't feel anything. I thought that of course everyone has Independence Day until now. But it's not. I'm curious about what the difference is. It depends on who you are but Cultural differences maybe can exist. It is important to know what standards the majority of society has. HAHAHA I don't mean to say this. Let me introduce Samiljeol. 🙂
History : Why did it happen?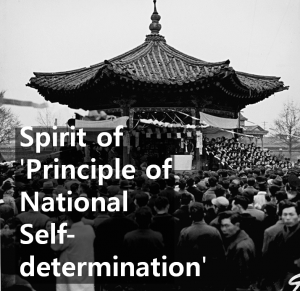 On every March 1st, Korean streets filled with national flags. It commemorate a national independence movement in 1919. What happened in 1919? They suffered discrimination terribly during Japanese colonial rule. The rule of force, cultural obliteration, extortion of their land made life difficult. People from all walks of life suffered lot of damage for the past ten years. At this moment, Woodrow Wilson(28th President of the United States from 1913 to 1921) announced <Fourteen Points>. It contains spirit of 'Principle of National Self-determination'. It activate national independence movement.
Independence Movement Day : 33 Korean leaders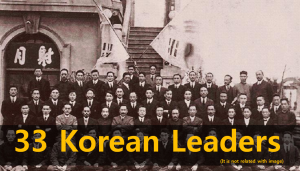 In 1919 Han Yong-un, one of the 33 Korean leaders, read the country's Declaration of Independence at the Taehwagwan Restaurant in Seoul. 33 Korean leaders consisted of 16 to Christianity, 15 to Catholicism and 2 to Buddhism. What is surprising is that religious leaders initiate action. Corrupt religious leaders of course existed. But at times some religious leaders are really cool.
After March 1st Movement, result is rally 1,542, participants 2,023,089, deaths 7,509, wounded 15,961, those arrested 52,770, burned church 47 and private houses 715(from Japan). Even though this movement caused a lot of casualties by Japan's brutal crackdown, this national movement showed the patriotism of our people both internally and externally.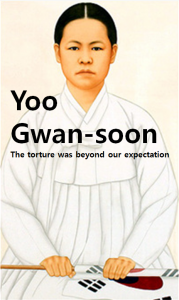 How can I forget about Yoo Gwan-soon!!! Japanese military police tortured Yoo Gwan-soon, who died in prison in 1920 at 18. The scope of the torture was beyond our expectation. Maybe it is too painful… My heart was broken…
Lastly, Kim Gu's quote is moving. We must need highly-developed culture. I want to write about this more.
The only thing that I desire in infinite quantity is the power of a highly-developed culture. This is because the power of culture both makes ourselves happy and gives happiness to others. – Kim Gu