Interesting social experiment : UNICEF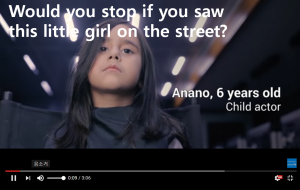 A interesting social experiment that Unicef carried out attracted public attention. They made two situations that 6 years old girl looked around for help. The girl waited for people, wearing different clothes depending on the situation.
"What's your name, kid? How old are you?" They take the time out to help that neat girl who wore gray dress with coat. They have mostly friendly attitudes.
After that, the girl went out on the same place wearing like homeless. People completely ignored that child and nobody paid attention to that homeless.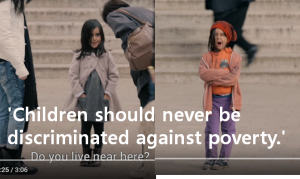 6 years old girl, ANANO, participating an experiment got angry. She got to know that people's reaction is noticeably different in accordance with dress. She see it in the flesh.
As indifference of people continued, there was no choice but to stop the experiment.
People tell me "Get out. That's sad". After the experiment finished, Anano said 'I can't understand it. I'm sad' Unicef planned this experiment as part of #FIGHTUNFAIR campaign.
Unicef said 'Children should never be discriminated against poverty.' They strived to solve these unfair social problems.