Today has 
never 

been and 

never

 will be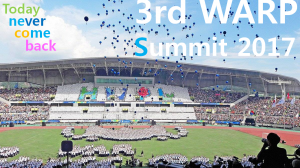 What day is today? You seems to be in a good mood today, aren't you? It is the reason that Today is not an ordinary day. I feel a little better today, me too. The reason why we are happy is quite clear. Unprecedented event is happening now. 3rd WARP Summit 2017 spread out right here in Korea. I am so glad I think my heart will burst out. Don't you want to join? Don't you want to feel? Take our hands and be our friends.
P

eace is not some

where

else. We are

p

eace.
Two wings of
HWPL

: I

P

Y

G

& IW

P

G
Our slogan is "Together for peace as messengers of peace". As this slogan, all IPYG and IWPG members work together for a world of peace and cessation of war. They show us the culture of peace with all their heart. Peace is not somewhere else. We are peace. You can experience the true culture of peace. Regardless of individual backgrounds, a culture of peace will foster understanding of harmony. At that time, We Can Be One! People from all nations and religions will become one through a heart yearning for peace.
W

E

a

Re

o

ne
D

P

C

W

Parade : 3rd

WARP

Summit 2017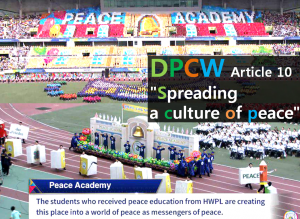 They show the time when DPCW is already implemented. It is really great idea. HWPL's walk is always beyond our imagination. If they sets their mind on something, they finds a way to achieve it beyond doubt. Still presidents don't sign up at DPCW, but I can feel the day is coming. Not just me, Everyone who are watching can feel 'Something changed'. The world is still not changed, but we changed. "Together for peace as messengers of peace! 3rd WARP Summit 2017! I'm so happy"
 E

veryone can

feel

'

S

omething

c

hanged'.

We

changed.
Peace

is up to you

:0

Good luck

!