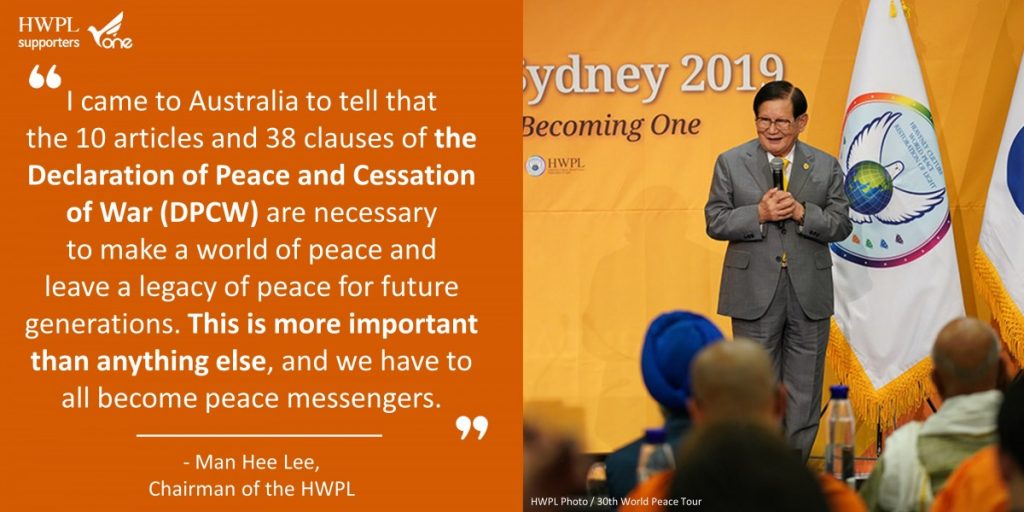 On February 18th, 2019, HWPL held a conference called 'Religious World Without Discrimination, Religious Leaders Becoming one' in Sydney, Australia. Along with about 370 audience members, 30 religious leaders representing 7 different denominations, including Christianity, Buddhism, Islam, Sikhism, Hinduism, Zoroastrianism and Caodaism, are gathered to discuss the Role of Religion.
Regarding the role of religious leaders in establishing a world of peace, Chairman Man Hee Lee of HWPL said, "I came to Australia to tell that the 10 articles and 38 clauses of the Declaration of Peace and Cessation of War (DPCW) are necessary to make a world of peace and leave a legacy of peace for future generations. This is more important than anything else, and we have to all become peace messengers."
During the conference, the theme of 'religious discrimination' was also discussed. 4 keynote speakers delivered messages regarding unfortunate cases of religious discrimination and the need for concrete action plans.
Especially, one pastor read a letter that will be sent to the United Nations Human Rights Council, "I am a Pastor working in Australia and Pakistan. Pakistan is a dominantly Muslim country where religious tension and discrimination exists. I understand how we must all work to bring about true harmony between people of different faiths and cultures. The acts of the Christian Council of Korea (CCK) in relation to Ms. Gu Ji-In who was killed in the aftermath of coercive conversion in Korea should never be ignored and what they do should be stopped."
30 religious leaders signed the Statement Denouncing Coercive Conversion Programs and Religious Discrimination and proclaimed their support for the Declaration of Peace and Cessation of War (DPCW).
Reference: http://www.hwpl.kr/en/news/view/190312382/0/30thWorldPeaceTourFortheFreedomofReligionandPeace7ReligionsHoldaCombinedEvent
Peace is up to you :0 Good luck!