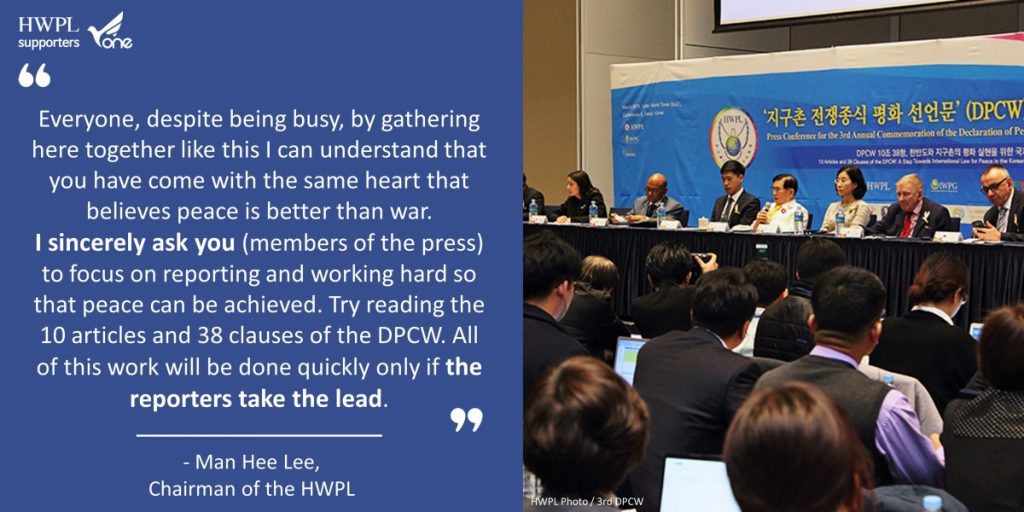 On the day of the press conference that was attended by 57 media outlets from Korea, HWPL's Chairman Man Hee Lee stated, "Everyone, despite being busy, by gathering here together like this I can understand that you have come with the same heart that believes peace is better than war. I sincerely ask you (members of the press) to focus on reporting and working hard so that peace can be achieved (in both Korea and the rest of the world)".
Finally, in regard to the meaning of the 3rd anniversary of the proclamation of the DPCW, HWPL's Chairman Man Hee Lee, explained, "It is to put an end to war around the world, and if there is no war, then the world of peace can be realized. That is why we want to achieve a world of peace that is free from war, which can then become a shining legacy for future generations. If you stop doing this for even a short while, then it will just cool down. We must do it until the time when it is completely finished. If it is done in this way, then you will not be still but will continue working hard.
One more thing, the cessation of war or the realization of peace are not things that are the personal work of a single person. If we are called as the family of the world, then it goes without saying that this is relevant to each one of us. If we truly value this world and ourselves and love the citizens of our own countries, then not only leaders but everyone should acknowledge this. It doesn't make sense to not give unconditional support. If there is something wrong, then the reason must be stated clearly, but just refusing to do (without giving a reason) is not right. Do not be like that. If all us together become one in heart and have the same will, then we must create a world without war".
He then directly addressed all the reporters and members of the press present stating, "Try reading the 10 articles and 38 clauses of the DPCW. All of this work will be done quickly only if the reporters take the lead. Please remember this," reiterating the importance of the role that the media plays in the achievement of peace.
Reference:
http://hwpl.kr/en/news/view/190426389/0/PressConferenceforthe3rdAnnualCommemorationoftheDPCW
Peace is up to you :0 Good luck!