The International Women's Peace Group (IWPG) held several memorial services across the world in honour of the late Ji-In Gu – a young South Korean woman who passed away while being forced conversion. The memorial service took place 49 days after Gu's death (December 2017) which is a Korean tradition and was held in Cape Town, Johannesburg, Port Elizabeth, Harare, Zimbabwe, as well as in Windhoek, Namibia. On January 28, 120,000 South Koreans also protested in major cities against coercive conversion program by the Christian Council of Korea. (More info) Not only in South Africa, the memorial service has been held in the LA, United Kingdom, and other parts of the world for a year.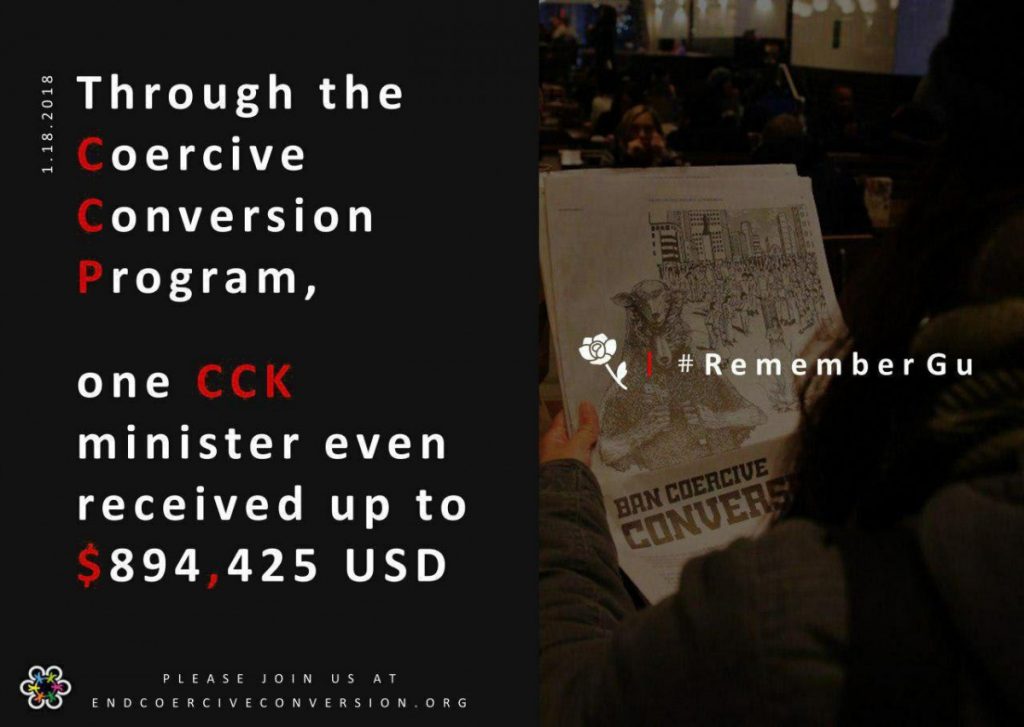 Especially during November and December this year, New York Times and other leading press reported with the headlines "Ban Coercive Conversion," and shared the events of the late Ji-in Gu.
Reference: https://www.iol.co.za/capetimes/news/memorial-held-for-woman-forced-to-convert-13635947
Why is the memorial continuing?
As we celebrate the first anniversary of memorial, why is it reported by the leading foreign press? Why is the memorial continuing? That's because nothing has changed in a year and the government hasn't responded. Why?
First, the Coercive Conversion Program is still underway.
Sometimes religious suppression occurs in war and emerging countries, but no one would think that Murder by coercive conversion occurred in the South Korea, K-pop's home country. So far, the number of victims is over 1,000. 52 percent of them claimed they were imprisoned. (The AVCCP statistics) In addition, 42 percent of the victims were taken to coercive religious conversion program by kidnapping. After this anti-humanitarian act, one conversion pastor of the CCK even received up to $894,425 USD. How can this illegal thing still happen?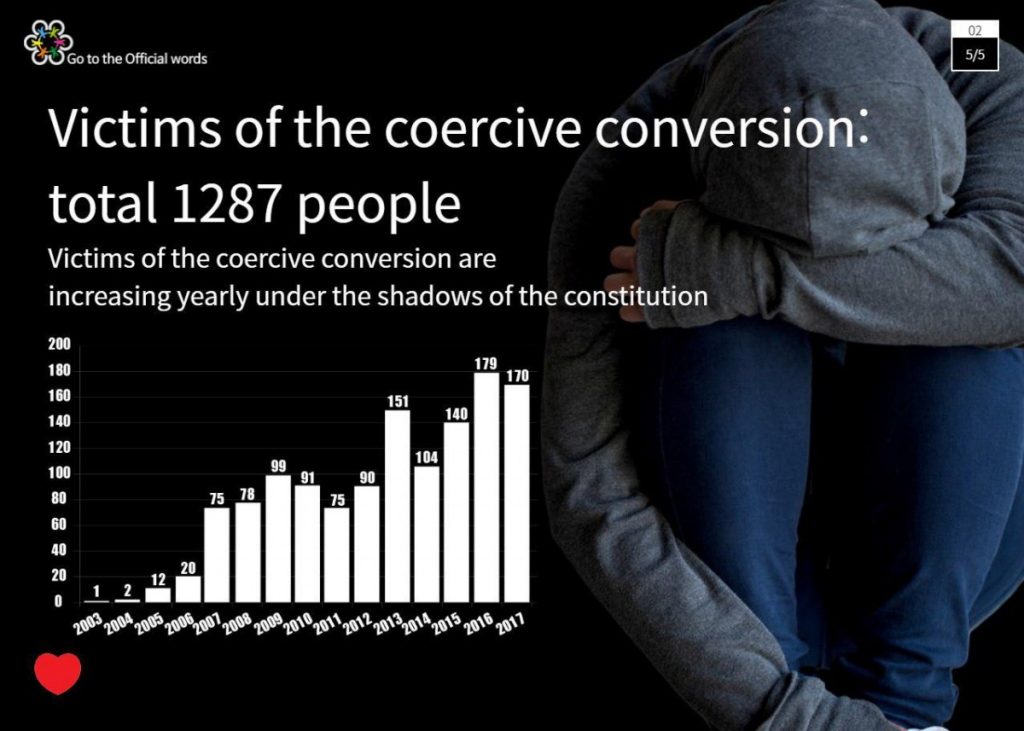 Second, Conversion pastors cowardly evade the law by using the excuse of 'counseling'.
They claim that these consultations on "cult issues" are carried out voluntarily at the request of the family members of the victims and with the consent of the victims. However, victims report that the "conversion education agreements" are written by force while they are under confinement. So Human rights activists and IWPG members around the world have continued to petition for the Korean government to enact a special law against coercive conversion program.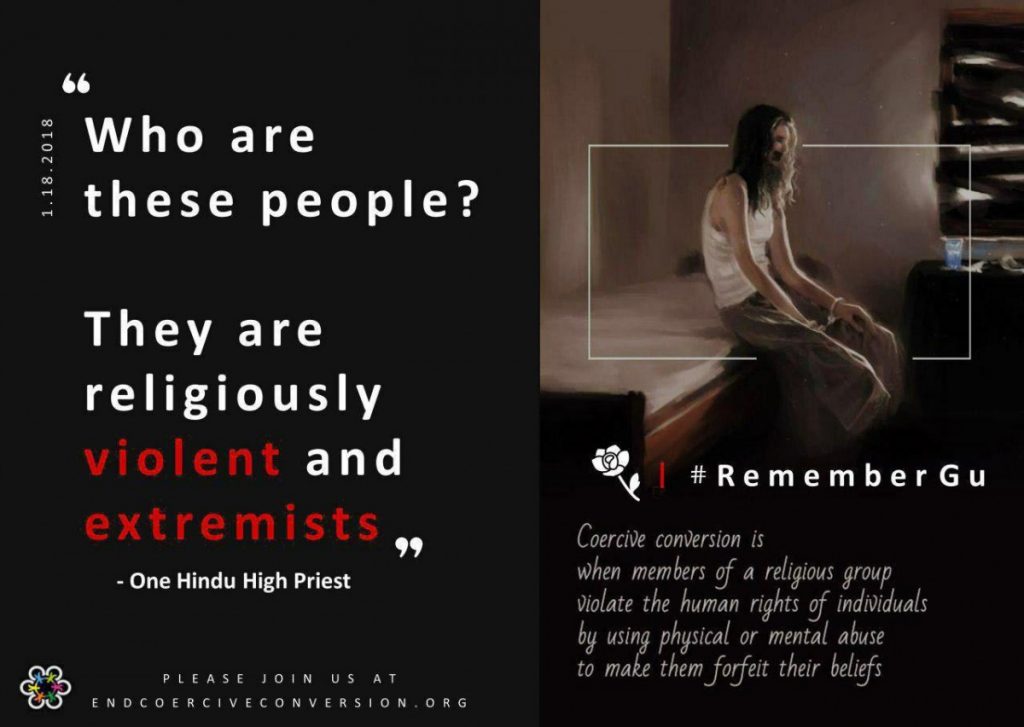 In a similar case, 1,000 Pakistani girls are kidnapped and forced to change religion every year. Muslims only just said "It was to encourage cults to accept the Islam."Many human rights activists spoke out, and in the end the government made a anti-conversion law.
In November 2016, the Sindh province passed a law criminalizing forced conversions to, according to the law, 'provide protection for those who are victims of this abhorrent practice.' Under the law, those convicted of forcibly converting others receive a punishment from five years' imprisonment to a life sentence.
Reference: https://indianexpress.com/article/world/world-news/pakistan-province-criminalises-forced-conversions-forbids-minors-from-changing-religion-4393556/
Why hasn't anything changed in a year?
Because the Christian Council of Korea (CCK) is trying to hide the truth, not only by neglecting the law and looking the other way, but by supporting its affiliated pastors' illegal activities. Politics and religion have the cozy relations, which violates Article 20-2 of the Constitution of the Republic of Korea, "Religion and politics are separated." Who will console the pain that 1,000 victims of coercive conversion in Korea have experienced? Who can compensate for Ji-in's death?
Furthermore, HWPL has already vehemently protested against the CCK, which has abandoned its function as a religious organization, and its affiliated pastors for conducting anti-nation, anti-society, and anti-peace acts that violate human rights. The CCK must to be disbanded for throwing the Korean people, as well as the international community, into chaos, and the pastors who took part in coercive conversion must receive the proper punishment for their actions.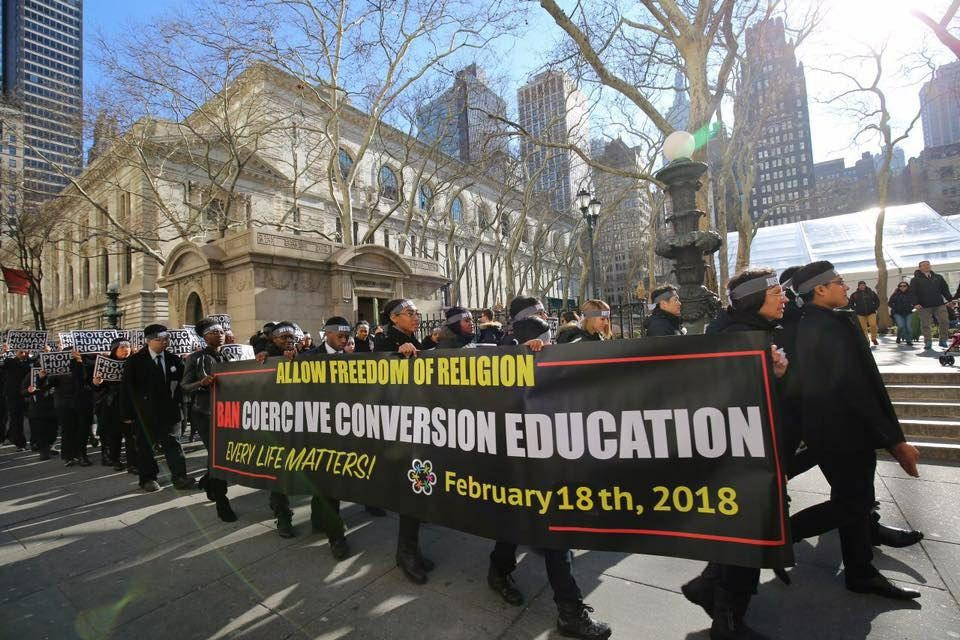 Reverend Thamsanqa Mvambo, President of the NICSA, said, "This is a terrible outrage that such people who claim to be believers in Jesus Christ would act in this way using the weapons of the devil against fellow Christians. The CCK and Conversion Pastors should repent immediately."
He added,"I ask the CCK and pastors who practice and profit from the conversion programmes to immediately and permanently cease such activities. We also call on the lawmakers in the Republic of Korea to make a law prohibiting the coercive conversion programmes and holding pastors who profit from this unaccountable action."
Reference: https://www.monitor.co.ug/News/National/Ugandan-firm-intervene-South-Korea-religious-conflict/688334-4717430-cpbksnz/index.html
http://hwpl.kr/en/news/view/181229361/0/NewYorkTimestoUnveilCCKsCoerciveConversionProgram
I # RememberGu to Ban Coercive Conversion

Memorial site
www.facebook.com/remembergu
www.youtube.com/endcoerciveconversion
Human Rights is up to you :0 Good luck!