What is the Peace Walk?
In Wikipedia, a peace walk or peace march, sometimes referred to as a peace pilgrimage, is a form of nonviolent action where a person or groups of people march a set distance to raise awareness of particular issues important to the walkers. Why does it have this meaning? Looking at human history, the Peace Walk has become in this way. Just as chewing rice several times makes it taste better, let's take a closer look.
First, I want to look at the European Peace Walk(EPW).
European Peace Walk, 100 y after WW1
In 2014, Groups of walkers left Vienna on a six-country, 23 day walk of peace to commemorate the 100th anniversary of the beginning of World War I. This year marks the fifth anniversary of EPW. The total length is about 330 kilometers. After exploring Vienna, peace walk starts in Budapest. And they walk to Hungary, Croatia, Slovenia and ends in Trieste, Italy.
Why do they walk?
100 years ago, they all were in violent conflict. The 4-year war killed so many European. The number of casualties is nine million soldiers and five million civilians. So, Lynch, one of organizer said "The walk's concept of crossing borders is paramount. We are crossing so many borders, and really sending a message of, 'We are all on one single journey as humanity'." She lastly asked "What do we really need to move toward a global family, and make that a possibility?" I think there is a point in her final answer.
"The more we can have conversations about what peace looks like,
the better." – European Peace Walk (EPW)
But it is not Camino.
It's not without walkers' complaints, as there are long, remote places to walk in a day. One walker said "On the website, the EPW is described as a Camino-style adventure, but it is not." I think this is what most people think. People compare EPW to the Camino de Santiago, which started in 814. There are many people who went to Camino and got healing. The reason why was that the Camino has an infrastructure that supports the needs of pilgrims. But there is no such structure on the EPW.
In a way, this is a natural result. Walkers' expectations are high from the start, so I think it's likely to develop in the future. Finally, some travelers say they don't know why they do this. I also want to ask you, "Why do you walk? What would be your mission as a Peace Walker?"
Reference:http://www.europeanpeacewalk.com/
http://www.bbc.com/travel/story/20140728-europes-first-peace-walk-begins
https://www.roamfarandwide.com/european-peace-walk-what-to-know-before-you-go/
I know a meaningful peace walk with practical purpose.
It is the HWPL Peace Walk
In May this year, about 70 countries host various events and peace walk. Maybe, I think that it is estimated that there will be more than one million. Every year, the scale is growing, and we are ready to achieve our goals. This year's event will be focused on the "Peace Letter Campaign" led by the International Peace Youth Group (IPYG), an affiliated youth organization of HWPL. The campaign is aimed to urge for the support of the heads of each country to develop the DPCW into a legally binding document by submitting it as a resolution to the UN.
Hundreds of thousands of young people have sent letters to the presidents of 193 countries, and are now waiting for a reply. The purpose of 6th 525 HWPL Peace Walk is to urge them to reply. Why do so many people enthusiastically support HWPL? This is because HWPL has a definite answer to peace. HWPL is in Special Consultative Status with the UN Economic and Social Council (ECOSOC) and associated with the UN Department of Global Communications (DGC). Aren't you curious about the answer?
It is the Declaration of Peace and Cessation of War (DPCW), which was drafted by 21 international law experts. It has overcome the lack of international law so far, and is highly praised by law experts. I'll give you an example on the ground, but there's a lot more.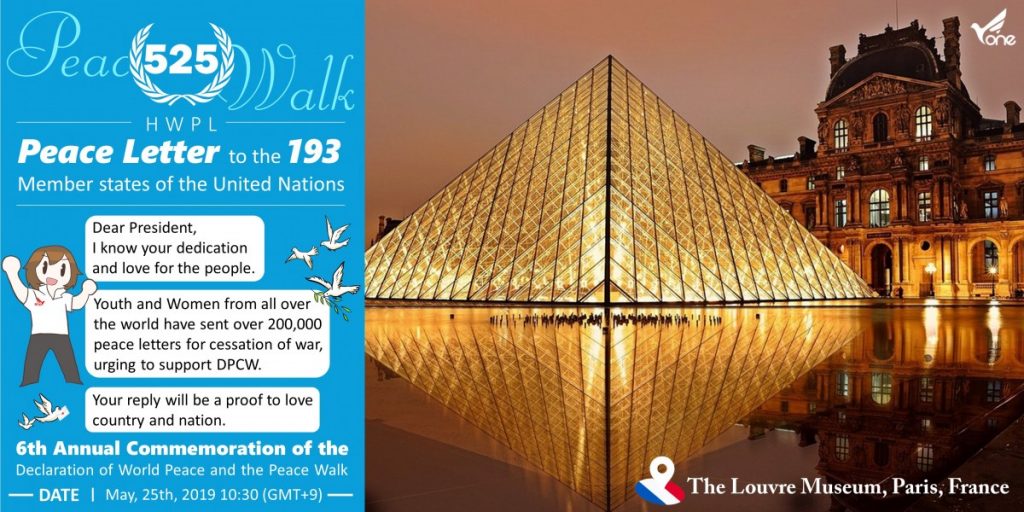 H.E. Viktor Yushchhenko, Former President of Ukraine said "I am deeply grateful to be able to implement the cause of peace in a specific way. This is truly a worthy cause. I was deeply impressed to see the DPCW with its refined and profound wisdom. I think it is worth the support from all leaders of the world. This is because the DPCW is a perfectly balanced document that was drafted through the great effort of international legal experts and is of fundamental value."
In the final conclusion, what was important in European Peace Walk is that we must think about peace if we are to move on. And I think HWPL Peace Walk meets this condition. In fact, any peace movement, if we can make our people better, is a great welcome. Please look forward to new and better news. Let me finish by introducing one last time. 🙂
Reference: http://hwpl.kr/ko/project/peaceWalk2017
http://www.thejetnewspaper.com/from-a-victim-of-war-to-the-leader-of-peace/
6th Annual Commemoration of the Declaration of World Peace and the Peace Walk
"The World's Call for Peace, Urging Support for the DPCW"
Date: May, 25th, 2019 10:30(GMT+9)
RE: Peace Letter, a Miracle of 193 Countries. Civil society's call for peace is answered by a reply from the President. Your reply is a proof of the wishes of 193 countries for peace. 🙂
#HWPL #IPYG #IWPG #ManHeeLee #Peacewalk
#DPCW #RE_Peaceletter #Reply #525
Peace is up to you :0 Good luck!