Great cause : For our country!
---
I want our nation to become the most beautiful nation in the world. I do not want our nation to become the richest and powerful nation in the world. It is sufficient that our wealth is such that it makes our lives abundant and our military such that it is able to repel others' invasion.

The only thing that K desire in infinite quantity is the power of a highly-developed culture.

This is because the power of culture both makes ourselves happy and gives happiness to others. 

-「My Desires」, 'The Nation That I Desire' Kim Gu-
---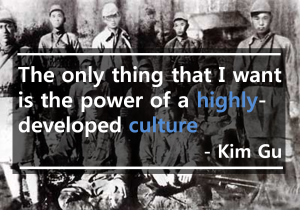 Korea was under Japanese colonial rule from 1910 until 1945. What do we need to think? As I was a child, I'm very angry with Japan. Why? They raped, killed and pillaged innocent village people. How could you do that! What did I do wrong? Korea was weak. Is it a sin? Nope. But after I got older, I realized that I'm in a temper callowly. The target of anger was wrong. Also, it is the most important to know how to get angry. And people are naturally mature. I'm really like someone who is awake. For example, I admire 'Korean Independence activist'.
Korean Independence activist
What should I do to understand that situation? There are many movies and writings. If you see and hear a lot of things, can you know their mind? Even if you don't know their heart, you read nothing. If you can't feel their breath, emotion and spirit, you see nothing. Actually, I want to try more to feel. If they now were born, it would be the same age with us. But how about us? What are we living for? College students these days, including me, study for a living. Even I don't know who is my enemy. Why am I living? Why didn't I do like 'Korean Independence activist'? Why were't I passionate like them? What is my cause? I have a lot of thinking.  
Peace

is up to you

:0

Good luck

!