Your job interview : It's cool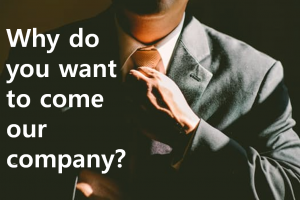 Are you trying to get jobs? How about your job interview? It's cool, right? If everything is going well, there is no reason to worry about. Do you want to make a strong impression on job interview? Let's think in a interviewer's position. Here we go! You joined the company already. Your five-year-anniversary date is coming. It would be like a dream come true, aren't you? You get a chance to be an interviewer. So now, What kind of people do you hire? You want someone whom your company need. If a interviewee want to be hired, he should know much about the company.
---
I

'd like to

formalize your employment with us. Wow!
---
Who knows well about the company?  Someone who has joined for 5 years? A man suffering from all departments? Nope. Of course, it can not be ignored. But you can't know better than the founder and you can't know better than Operations. Try to listen saying of these people carefully. And make your competence felt. Interviewers said, "He's someone whom our company absolutely needs." Wow. The best scenario. But that's easier said than done. How can we meet them who are the busiest in that company?
---
In fact, you
can meet

them. It's easy and simple.
---
How can
we meet

busy men and women?

You can meet them in the company's homepage. They are in 'Mission, Vision and Core Values'. Why? Because it is the way they operate. You don't know yet? Let us take a concrete example.
Apple "Think Different"
Mission(1980 Steve jobs) : "To make a contribution to the world by making tools for the mind that advance humankind."
Vision(Tim Cook) :
"We believe that we're on the face of the Earth to make great products.
We believe in the simple, not the complex.
We believe that we need to own and control the primary technologies behind the products we make.
We participate only in markets where we can make a significant contribution.
We believe in saying no to thousands of projects so that we can really focus on the few that are truly important and meaningful to us.
We believe in deep collaboration and cross-pollination of our groups, which allow us to innovate in a way that others cannot.
We don't settle for anything less than excellence in every group in the company, and we have the self-honesty to admit when we're wrong and the courage to change."
Core values : "Great, Dimple, Easy-to-use"
The Walt Disney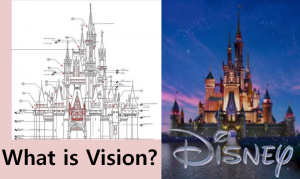 Mission & Vision : "The mission of The Walt Disney Company is to be one of the world's leading producers and providers of entertainment and information. Using our portfolio of brands to differentiate our content, services and consumer products, we seek to develop the most creative, innovative and profitable entertainment experiences and related products in the world.
Core values : "Innovation, Quality, Community, Storytelling, Optimism and Decency"
---
A company that has
no identity

is unattractive
---
Mission
vs

Vision

vs

 Core values

Do you get an idea of how they operate their company? Mission is a reason for being of company.(raison d'etre) There are many other companies but why do this company exist? Is it threatening? HAHA. In previous post, I linked company's mission and personal mission. Do you want more? Go to this link.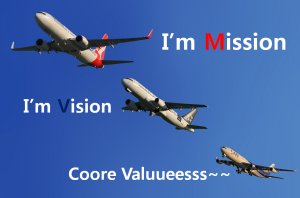 What is Vision? It is a concrete blueprint. When Disneyland was completed, Walt Disney was died already but it is same as his blueprint(his imagination). In other words, vision is a specific goal. Lastly, what is Core values? It is criteria for decision-making. There are lots of moments to decide from big things like company's future, to trivial things like telephone contact with customers. Every employee follow company's Core values. Explanation is over. Now, company's success depends on how much company impressed their employees Mission, Vision and Core values. Why? A company that has no identity is unattractive.
Likewise, if interviewee don't know these things, he must look like a fool. In fact, just because you know(hear) it, doesn't mean you understand it. Because you should know more than meets the eye. If you feel it deep down in the heart, you are guaranteed to succeed.
Peace

is up to you

🙂

Good luck you job interview!