The present state of journalism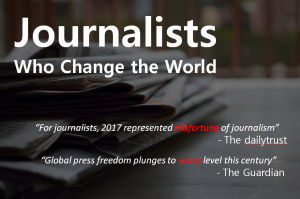 One media, dailytrust, said 'For journalists, 2017 represented misfortune of journalism'. Why? I wonder why, too. The International Federation of Journalists (IFJ) says at least 81 reporters were killed and violence against media soared last year. Also, more than 70 media companies were closed in Venezuela. Also, the Guardian reported that "Global press freedom plunges to worst level this century" mainly due to government censorship, crime targeted at journalists and financial pressures associated with the growth of the internet. What do you think we should do? They are not frustrated. They want to respond to such challenge and turn it into an opportunity. So, some journalists around the world in collaboration with an international NGO have been seeking ways to enhance press freedom through the international media network and peace journalism in relation.
H

W

P

L : Where should we go?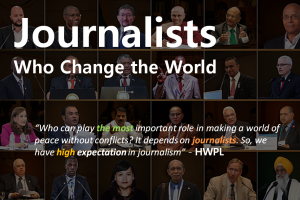 In 2017, Heavenly Culture, World Peace, Restoration of Light (HWPL), said in a statement recently that it formed a series Media Forums to establish a working group of journalists around the world. Why? It want to research the flow of journalism globally and redefine the duty of journalism.
On September 17, 2017, at the World Alliance of Religions' Peace (WARP) Summit, "the Conference for Global Peace Media Network – Freedom of the Press and International Peace Media Community Initiative" was held with 100 journalists from 50 countries around the world. What is important is that the establishment of media agencies concentrating on peace can raise public awareness, and more and more journalists should participate in delivering news of peace and settlement of the conflict rather than conflict itself. I sincerely ask journalists to change my future.
"Who can play the most important role in making a world of peace without conflicts? It depends on journalists. If journalists dedicate themselves to peace-building efforts, thoughts of people especially politicians will change. So we have high expectation in journalism" – Chairman Lee of HWPL