Prize Laureates
| | |
| --- | --- |
| 2015 | National Dialogue Quartet |
| 2014 | Kailash Satyarthi and Malala Yousafzai |
| 2013 | Organisation for the Prohibition of Chemical Weapons (OPCW) |
| 2012 | The European Union (EU) |
| 2011 | Ellen Johnson Sirleaf, Leymah Gbowee and Tawakkol Karman |
| 2010 | Liu Xiaobo |
| 2009 | Barack H. Obama |
(nobelpeaceprize.org)
This time I want to introduce Malala Yousafzai.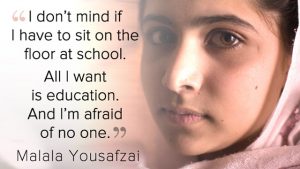 Do you know her? Hang on to your hats!!
She is just only 17 years old in 2014. She is the youngest Nobel peace prize winner.
Why she is so influential?
On the afternoon of 9 October 2012, Yousafzai boarded her school bus in the northwest Pakistani district of Swat.

A gunman asked for her by name, then pointed a pistol at her and fired three shots. One bullet hit the left side of Yousafzai's forehead, travelled under her skin through the length of her face, and went into her shoulder. 

DCIM100GOPRO

In the days immediately following the attack, she remained unconscious and in critical condition.(From Wikipedia, the free encyclopedia)
But She recovered her health!!! It's a miracle.
Her walk started at 11-12 years old. Yousafzai wrote a blog at that time to  change the world.
The world was in an uproar over this assassination.
It is a opportunity for her to change the world.
The 2013, 2014 and 2015 issues of Time magazine featured Yousafzai as one of "The 100 Most Influential People in the World"

In July 2013, she spoke at the headquarters of the United Nations to call for worldwide access to education

In February 2014, she was nominated for the World Children's Prize in Sweden.

Later in 2014, Yousafzai was announced as the co-recipient of the 2014 Nobel Peace Prize, along with Kailash Satyarthi(From Wikipedia, the free encyclopedia)
For her "Nobel peace prize is a beginning, not an end "
One little girl changes the world even now.
"One child, one teacher, one book, one pen can change the world."
–  Malala Yousafzai