Che Guevara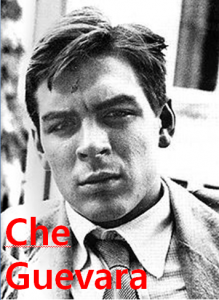 In his childhood his life is rich. But A journey changed his life forever. The trip was made into movies. It is "The Motorcycle Diaries"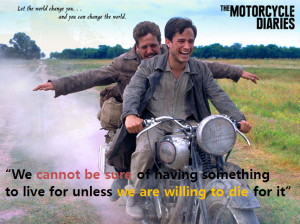 It's a good movie. I've been going on and on about this movie. This is my pleasure these days. I'm in medical school. When he make this trip, He is 23 years old. Next year I'm the same age with him.
I'm excited and nervous 🙂  Can I travel like him?
When he traveled South America, Sweatshop and the gulf between rich and poor were very deep. While the rich enjoy the best life, ordinary people should live extremely poor life. He got to know oppression and exploitation for the populace. 
This trip changed Guevara. Guevara's consciousness turned into a revolution in a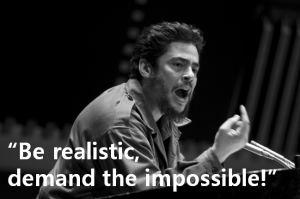 doctor. I love his bold idea beyond ordinary people and his acting power.
I'm expected 'what travel I meet in next year?' I'm throbbing. 🙂
"At the risk of seeming ridiculous, let me say that the true revolutionary is guided by a great feeling of love. It is impossible to think of a genuine revolutionary lacking this quality… We must strive every day so that this love of living humanity will be transformed into actual deeds, into acts that serve as examples, as a moving force."
– answer to "What is the most important thing to a revolutionary?"    by Che guevara