Do you know 'Carter

Center'?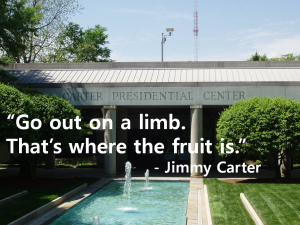 Carter? Didn't you hear a lot? Yes. It is 'Jimmy Carter'.
Jimmy Carter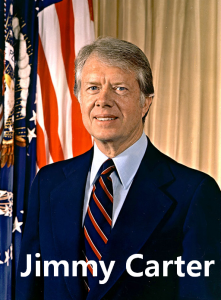 He is famous in Korea because he negotiated with North Korea to stop war. He is the first man who visited to North Korea.
After his retirement, Jimmy Carter's movements is assessed at the greatest among former presidents.
At the center of that movements, there was 'Carter Center'.
Carter Center
'Carter Center' did a significant contribution to the human rights as well as rearranging of international disputes. It made him win the Nobel Peace Prize 2002.
In the early years of the Carter Foundation, Carter established some important management principles as follows.
The Center emphasizes action and measurable results. Based on careful research and analysis, it is prepared to take timely action on important and pressing issues.
The Center seeks to break new ground and not duplicate the effective efforts of others.
The Center addresses difficult problems in difficult situations and recognizes the possibility of failure as an acceptable risk.
The Center is nonpartisan, actively seeks complementary partnerships and works collaboratively with other organizations from the highest levels of government to local communities.
The Center believes that people can improve their own lives when provided with the necessary skills, knowledge, and access to resources.
This video is in Carter Center homepage. I'm in the mood to cry.
I am laughing in here but still many people are unhappy. Carter, expand human rights diplomacy. He thought 'human is important'.
Just how important the leader is!!! 
His thoughts and values is really really important.
Korea is messed up. I'm sad when I think my homeland.
"It is good to realize that if love and peace can prevail on earth, and if we can teach our children to honor nature's gifts, the joys and beauties of the outdoors will be here forever. – Jimmy Carter"