A Brave journalists, Bana Alabed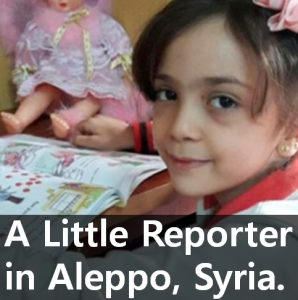 Bana Alabed is a little girl living in Aleppo, Syria. She is not just little girl. She is a little reporter in Aleppo, Syria. She has broadcasted the current situation in real time.
Aleppo is where a Syria civil war broke out. It is a very tough place to live for a little girl. She is faithful to her role.
She began telling us her story.
She started a Twitter on September 24. Her first words were "I need peace". It was retweeted over 1000 times. And She  got 20,000 more followers in a week.
https://twitter.com/AlabedBana. Here's a website address.
Now she is influential. She got 233,653 followers.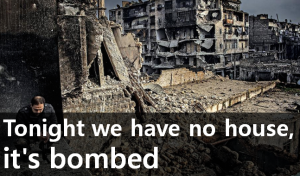 Click her website. Scroll down to read more details.
There are words that she frequently used.
'Appeal' 'My friends' 'Death' 'Bomb' 'kill'
'Save me' 'We are still alive'.
Let's support her together. We must do it. What I'm surprising is that She is still bright. We need to protect her smile. 🙂