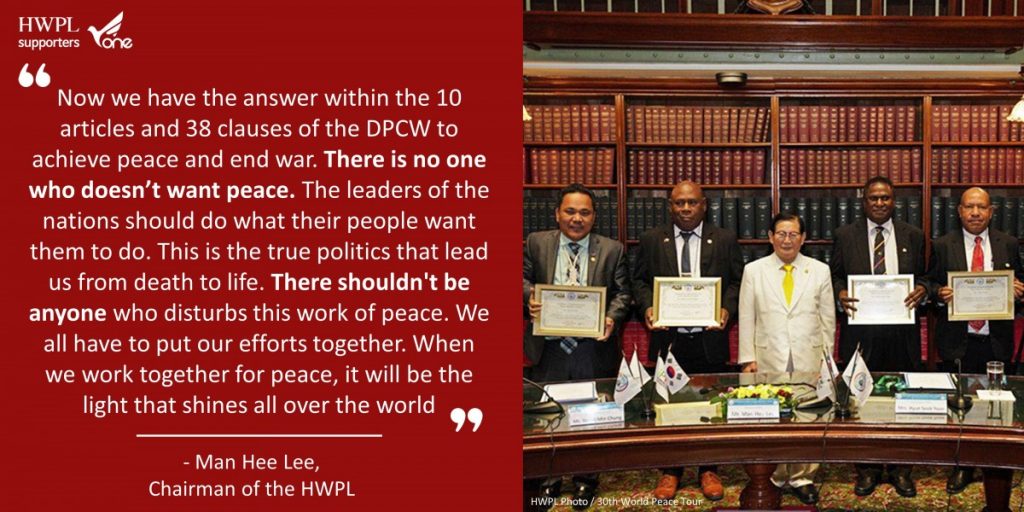 On February 19th, the '2019 Pacific Leaders' Summit for Peace, Sydney' was held at the New South Wales Parliament House in Australia with HWPL, an international NGO under the UN ECOSOC. It was held for the South Pacific leaders to call for the introduction of the Declaration of Peace and Cessation of War (DPCW) at the UN General Assembly in 2019. During this conference, 12 high-level government leaders from eight countries in the South Pacific showed their support for DPCW.
Mr. Man Hee Lee, the chairman of HWPL, urged for joint efforts towards the enactment of the DPCW by saying, "Now we have the answer within the 10 articles and 38 clauses of the DPCW to achieve peace and end war. There is no one who doesn't want peace. The leaders of the nations should do what their people want them to do. This is the true politics that lead us from death to life. There shouldn't be anyone who disturbs this work of peace. We all have to put our efforts together. When we work together for peace, it will be the light that shines all over the world".
Reference:
http://hwpl.kr/en/news/view/190312381/0/30thWorldPeaceTourSouthPacificandSoutheastAsiaLeadersCallforBuildingSustainablePeaceintheRegion
Peace is up to you :0 Good luck!