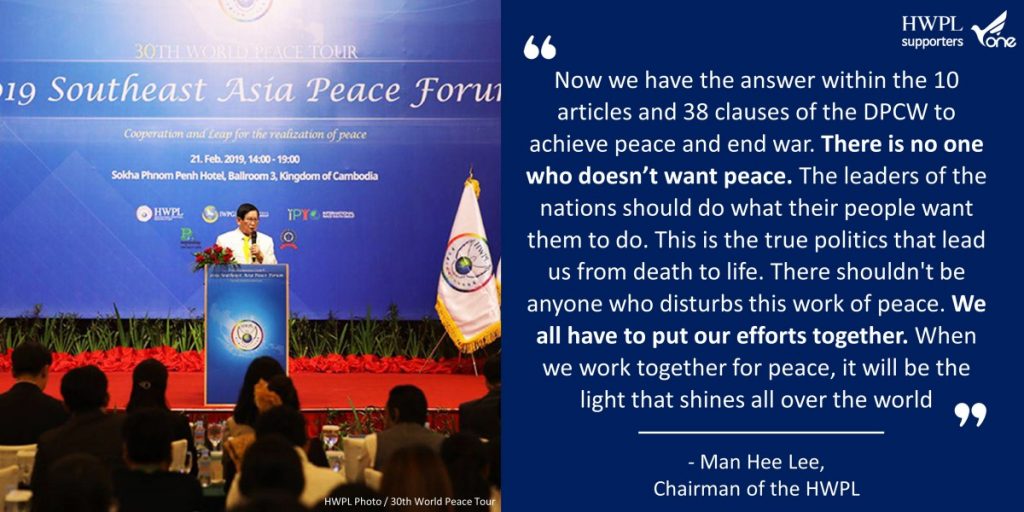 On February 21st, 1,000 social representatives including youth and women from ASEAN member states, religious leaders, and NGOs participated in the '2019 Southeast Asia Peace Forum' held in Phnom Penh, Cambodia to discuss practical approaches to peace building in the region.
The participants, both national leaders and students and citizens, wrote supporting letters for the DPCW, which will then be presented to their respective national leaders and international organizations to advocate for the implementation of the declaration at the UN.
Mr. Parlindungan Purba, S.H., MM., Chairman of the Second Session of Regional Representative Council in Indonesia, urged for the UN adoption of the DPCW, saying "We will establish clear and practical plans to increase the number of countries which are supporting the DPCW. There is also a moral obligation to fulfill our mission to urge for peace and the DPCW. We must be peace creators."
Mr. Man Hee Lee, the chairman of HWPL, said "Now we have the answer within the 10 articles and 38 clauses of the DPCW to achieve peace and end war. There is no one who doesn't want peace. The leaders of the nations should do what their people want them to do. This is the true politics that lead us from death to life. There shouldn't be anyone who disturbs this work of peace. We all have to put our efforts together. When we work together for peace, it will be the light that shines all over the world".
Reference:
http://hwpl.kr/en/news/view/190312381/0/30thWorldPeaceTourSouthPacificandSoutheastAsiaLeadersCallforBuildingSustainablePeaceintheRegion
Peace is up to you :0 Good luck!