IWPG Chairwoman's Peace Quotes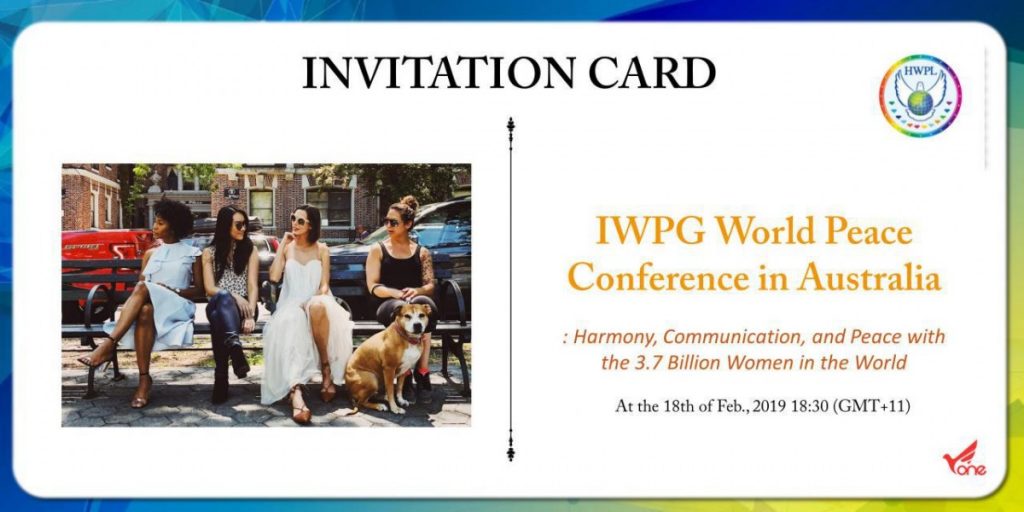 On the 918 WARP Summit, Ms. Hyun Sook Yoon, IWPG Chairwoman, said "In the world of the 21st century, people across the continent are able to meet people on the other side of the globe in just a few hours. In addition, with the development of information and communication, a large amount of information can be delivered in real time through the internet. However, in this world of convenience, we are constantly exposed to heartaches such as wars, terrorism, abuse of human rights, and news of sad deaths of beloved children throughout the world.
The noble maternal instincts that women have can protect children from the front lines of war. It is the most powerful force and answer to peace that can lead mankind into a world of peace. Because half of the world's population are women with the potential of peace, if we become one, mankind can turn into a peaceful world without war."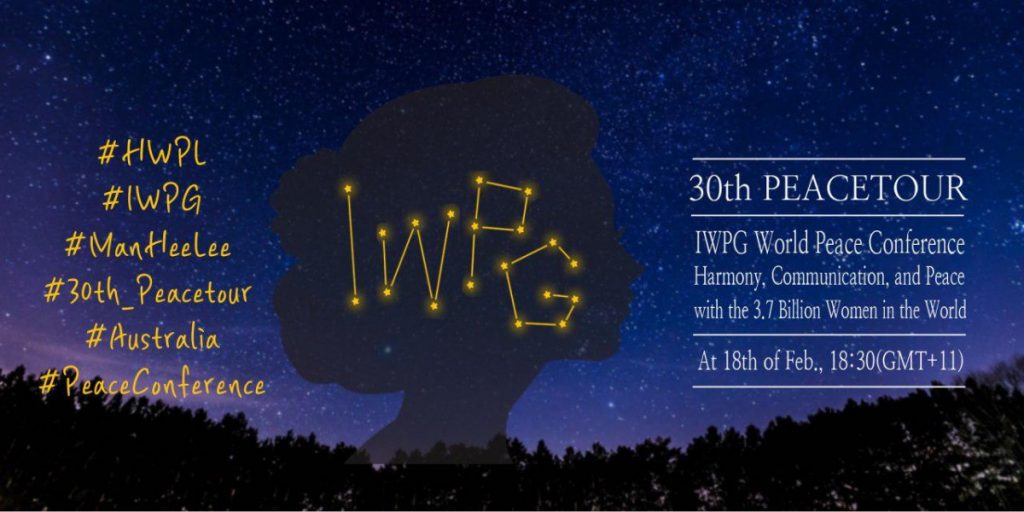 IWPG is working to make sure that all children and women have the right values through peace education. I believe that there is no change as fast as education. IWPG is taking the answer to peace suggested by HWPL, the "Declaration of Peace and Cessation of War (DPCW)", and is actively spreading a culture of peace in diverse ways such as implementing peace education and training peace educators.
"We have cooperation agreements with schools around the world and are working to establishing peace schools and education. We have launched the "10 Million Signature Campaign for Urging for a Peace Agreement for the Cessation of War on the Korean Peninsula" for peace on the Korean peninsula and currently it is being achieved as written on the "Declaration of Unification".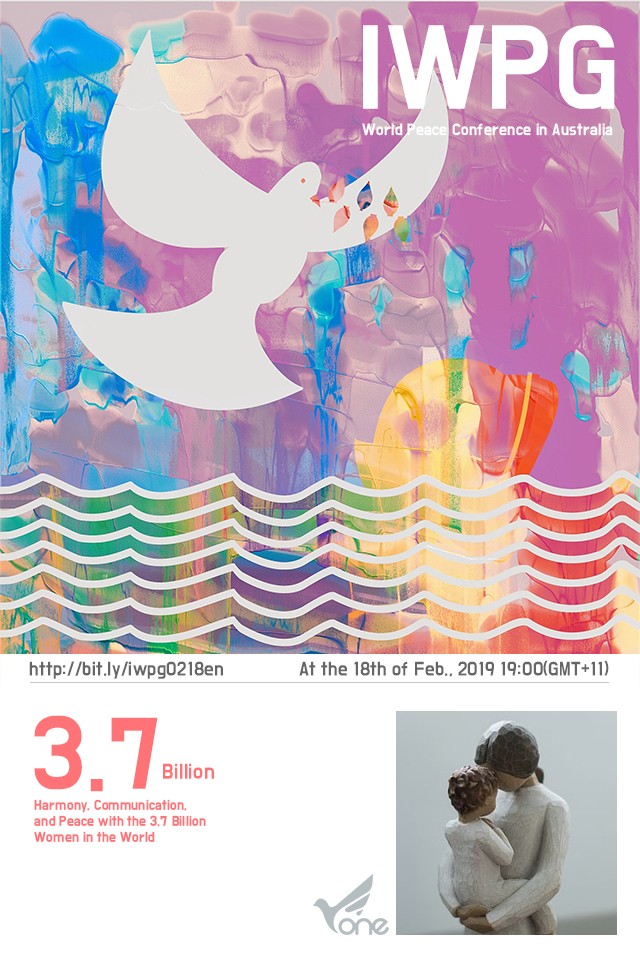 In order to end the global war and make a world of peace, ourselves first have to know this declaration of peace. We must inform my neighbors, and let the nations and the presidents know and participate. I hope that 3.7 billion women around the world will be the protagonist of peace with us. Let us all become the messengers of peace and realize world peace together."
Man Hee Lee Peace Quotes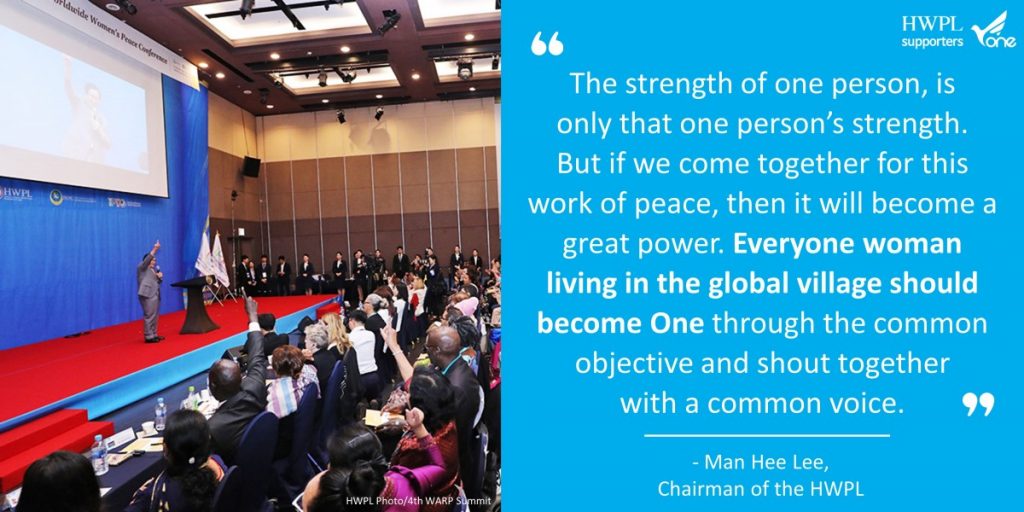 The Chairman Man Hee Lee of HWPL gave a special request to those in attendance stating, "The strength of one person, is only that one person's strength. But if we come together for this work of peace, then it will become a great power. Everyone woman living in the global village should become one through the common objective and shout together with a common voice. You should write letters to former and current presidents. We need to write not only to our president but to those all over the world."
He then continued, "Also you should tell not only the people of your own countries but the people from other countries as well about the method of becoming one together with the women of the IWPG. Two is more powerful than one, but if there are many it will never be broken. Since the goal is peace, nothing is more precious and important than the work of making the world of peace that can be left as a legacy for future generations. I believe in the women's group and the youth group."
Reference: http://hwpl.kr/en/news/view/180922343/24/2018IWPGInternationalWomen%E2%80%99sPeaceFemaleLeadersoftheWorldFindtheRoleofWomenforPeaceintheKoreanPeninsulaandWorldPeace
IWPG World Peace Conference in Australia
Harmony, Communication, and Peace with the 3.7 Billion Women in the World
On the 18th of Feb, 2019, IWPG World Peace Conference in Australia was held in order to inspire a sense of duty as a women leader to achieve world peace, and to recognize its role as a messenger of peace. IWPG shared the initiatives and activities of IWPG over the past year and presented the main directions for 2019.
People who contributed to work of peace were motivated for peace by being presented the Plaques of Appreciation Ceremony. First ladies were inspired their mission to realize peace through the inauguration ceremony of the "IWPG Peace Network of First Ladies".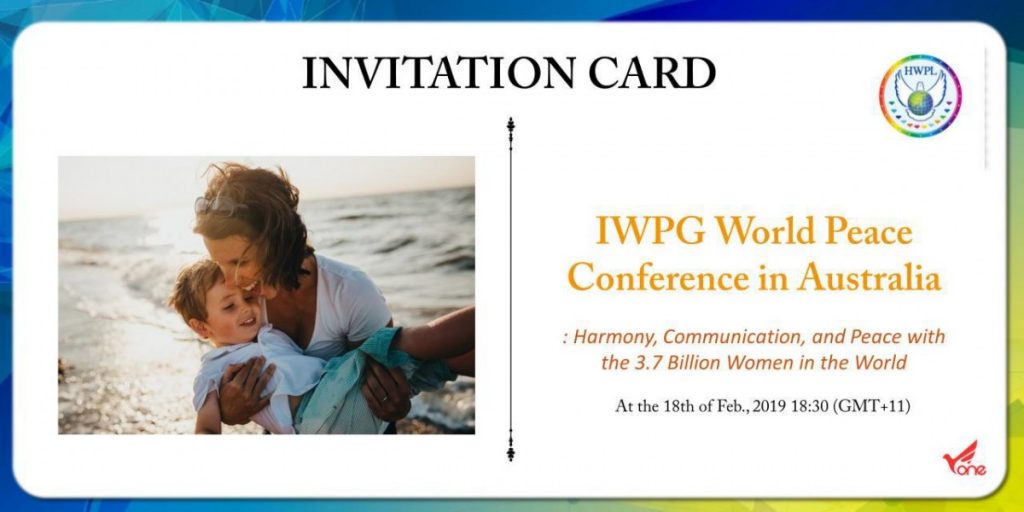 IWPG Chairwoman strongly emphasized "IWPG consists of more than 100 branches and 240 affiliated organizations. The Peace Mission with HWPL and IPYG is currently on the 30th World Peace Tour and everyone wanted.
Even now, there are children and young people who are dying of war. Also in the midst of the war, women's human rights are being violated. Should we just sit back and let it go? Young people and women all over the world should be brave enough to talk about inconvenient truths, and institutional support is also needed to prevent war. If war is a problem, there should be an answer to it. IWPG found the answer in DPCW.
When one changes one's mind, culture changes and civilization changes. Let us awaken all to the culture of peace. We are all messengers of peace."
#HWPL #ManHeeLee #30th_Peacetour #Australia #IWPG #PeaceConference
Peace is up to you :0 Good luck!