African

Leaders of Peace

Summit

– Plenary 1: Current and Former Presidents, Ministers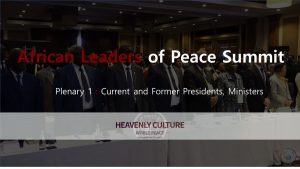 What is the role of the leaders of Africa? They got together to think about this. I was impressed that One Former President always shouted for peace during his presidency and the country's civil war ended. When I listen to the leaders's stories, I think they are really great. They have not given up yet and want peace. There is no one who does not care about his country's people. I am grateful that people like them are leaders. The Chairman Man hee Lee asked, "People who are gathered here, is there any want who want war?."
No one answered.  The Chairman Lee continued that "War sacrifices many lives and destroys many buildings. If there is anyone who wants war, please raise your hand." No one raised their hands. The Chairman Man hee Lee shouted, "When there's war, who is the one who is fighting in front of battle line that is the youth. We are born in the same world, same generation, but their lives cannot blossom, but their lives are lost in the battle."
---
What can compensate for their lives?
---
Who can

compensate for youth's lives
Wars of mankind : total 14,513 times.
Reason of War: 80% Religious war
Victims of War : 3.7 billion
Nobel Peace prize rewarded : 124 times
How long should we wait? We can't stand it anymore. It is so hard and painful. My family and friends are dying. Who can compensate you for their death? To Whom? What can you do? Money never can pay it back. Nothing can repay this! Many peace awards were given, but peace was achieved?
"When the light of heaven shines in the hearts of people, it becomes the light that never fades away."
– HWPL
---
The Chairman
Man hee Lee

& HWPL
has the Solution of PEACE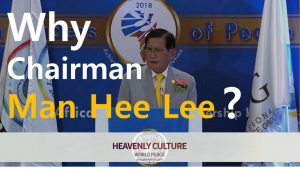 I thought I needed to hear him in more detail. The Chairman Lee continued "However, politics and laws could not compensate for the lives there was lost. Should we continue on this painful war? No matter how much money you spent builds your own house, if there is war, your building, your house will be broke down. God is peace. And we need to follow his will and achieve the world of peace. What religion talking about is peace. And the world of peace is salvation. This peace is not a matter of individual. It is the matter of the people in the earth. Therefore we need to become messengers of peace who achieve peace."
---
Why
HWPL

? Why chairman

Man hee Lee

?

– peace biography of the Chairman Man Hee Lee
What is the Solution of sustaining peace? HWPL identifies the root cause of the conflict and provides a solution to peace. People stuck together to make a world without war. Mindanao, who had suffered 40 years of civil war, signed the peace agreement of HWPL and it ended years of conflict and brought peace to various places of Mindanao. The results were possible because everyone joined the peace movement in unison.
Official : http://hwpl.kr/
---
World Alliance of Religions' Peace (WARP) Summit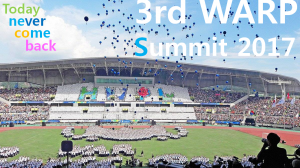 The world is debating, practicing, and witnessing peace. The WARP Summit is widely known as the International Peace Festival, which has practical consequences. As a non-governmental peace organization, bringing people from various nations and all walks of life together is an astonishing feat. Participants say The WARP Summit is a unique event that supports humanity and peace spirit. The way in which we organize and coordinate events systematically is highly valued compared to other international events. Anyone who comes to this festival can fully experience the culture of heaven. In particular, the IPYG Card Section Performance, which 12,126 IPYG youth created, impressed various races and cultures and brought peace to the mind. The WARP Summit is becoming a world peace festival and giving the divided Korean Peninsula a new name of the nation of peace.
On September 18, 2014, two historic vows were made while the world watched, which developed into a major peace campaign of the HWPL. Leaders from various fields have fulfilled their mission and made up their minds to achieve it in this era. The noble cause t end war and keep peace for future generations is now a concrete goal before us. The WARP Summit is held to create a clear solution to achieve peace and sets a new standard for peace.
Official : http://warpsummit.org/
---
Law for Peace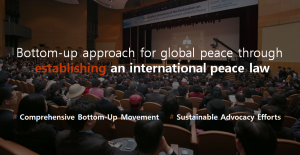 We are creating a new order for the world. In order to fundamentally resolve international conflicts and crises, we have developed our work in a more specific and professional direction. The HWPL international law peace committee was founded to discuss ways to achieve peace through international law. It is composed of legal experts of different nationalities. After three formal committee meetings, the DPCW was drafted. On March 14, 2016, 10 articles and 38 clauses of the Declaration of Peace and Cessation of War (DPCW) was declared. Currently, there is a worldwide campaign to introduce the DPCW to the United Nations. The new international peace law, that the world is creating together, will change the history of mankind.
My posting : http://www.peacestep.com/2018/07/09/3-peace-initiative-dpcw-law-for-peace/
---
HWPL world alliance of religions' peace(WARP)office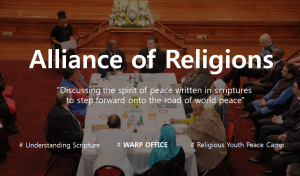 Religion is returning to its original role in restoring peace. The WARP Office was established to resolve conflicts and misunderstandings among religious groups. The Chairman Man hee Lee's clear religious guidelines lead religious people in the right direction today.
The Chairman Man hee Lee said, "If religions are in harmony with each other, there will be no reason to fight. To achieve harmony among religions, people of religion should examine and compare their scriptures to find the truth and become one in that truth. People of religion are responsible for leading people of the world in the right path."
In the WARP Office, leaders from various religious groups gather to discuss religion and the Bible. It is being held in major cities around the world. The purpose of this comparative study of religious scriptures is to return religion to its original role and become one religion according to the creator's will. The WARP Office promotes understanding and harmony among many religions in the world for the peace of mankind.
My posting : http://www.peacestep.com/2018/07/13/3-peace-initiative-warp-office-alliance-of-religions/
---
Peace education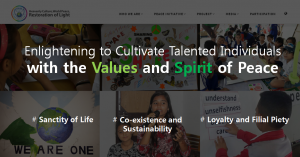 We are building lasting peace for future generations. Now we need education for peace. A proper education can change our future. Our children must learn the valuable values of creating a happy future for themselves and protecting it.
One law expert said, "We must educate all humanity to instill in them a love of peace so that our youth will no longer be sacrificed in war. For this purpose, we hereby resolve to participate in the peace work of HWPL as an HWPL Peace Academy and to become messengers of peace who educate about the peace movement."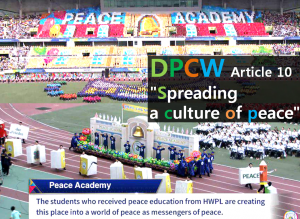 The number of HWPL Peace Academy is increasing worldwide and Peace Teachers are are teaching students about the peace movement and peace spirit of the HWPL. Through this education, children will grow into peace leaders.
My posting : http://www.peacestep.com/2018/07/04/3-peace-initiative-hwpl-peace-education/
---
AWARDS AND MEMORIAL
The world recognizes and remembers of HWPL. All the prizes are lasting memorial to HWPL's contribution to mankind. The peace prize that we really want is a actual peace on Earth.
HWPL Day is now a peace holiday enjoyed by everyone. The day of the HWPL is being announced all over the world.
HWPL DAY January 24
Mindanao Peace Agreement Day
HWPL DAY May 25
Declaration of World Peace Day
HWPL DAY September 18
World Alliance of Religions Day
A monument was erected to commemorate the day when they promised to end peace and war in the WARP summit. Many are volunteering to build the monument in their own country and testifying about the evidence of peace. The world is becoming a family beyond nationality, race, and religion.
---
We are walking hand in hand toward
a new era of peace. We are HWPL
---
African

Leaders of Peace Summit

– Plenary 1: Current and Former Presidents, Ministers

Time : UTC 8:00-10:00, 10 August 2018
YouTube : bit.ly/2AURIW4 (Only Korean)

#29thWorldPeaceTour #HWPL #Pray4Peace #ReligiousFreedom #Peaceleader #WeAreOne #PeaceLetter #Africa_Peace #Peacelaw #DPCW_Africa
Peace is up to you :0 Good luck!