Local Council of Târgu-Mureş approved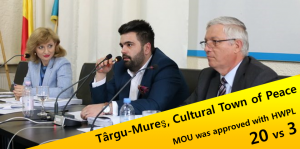 On Thursday, April 26, The local elected representatives of Târgu-Mureş approved a Memorandum of Understanding(MOU, with 20 votes for and 3 against) between Târgu-Mureş City Hall and Heavenly Culture, Korea's World Peace, Restoration of Light (HWPL) South.
"Târgu-Mureş, Cultural Town of Peace"
"One of the brands of Târgu-Mureş is that of a multicultural city. Târgu-Mureş Town Hall opens the way to dialogue on the realization of an ample cultural program called "Târgu-Mureş, Cultural Town of Peace".
The representative of Tîrgu-Mureş said "It is among the organizations with the strongest cultural, social and educational projects that militate for peace, interculturality. Târgu-Mureş is the only city in Romania to which a memorandum was proposed and our city will be considered by South Korea as a reference point for harmonious interethnic relations."
I am against it
Local councilor Radu Balaş (POL) said 'I can't understand why the City Hall of Târgu-Mureş has to associate with an NGO. Why?' It can be useless.
MOU needs for Târgu-Mureş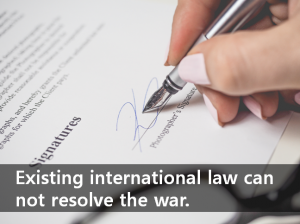 Makkai Grigore, Deputy Mayor of UDMR, said "Today, when the world struggles to be seen and see, today, when globalization has become a common thing, we come with such aberrations."
"It is the largest NGO in the worldla (It can be a mistranstion) so that I do not know why we deny it. It is a pride for us, for the city of Târgu-Mureş, for the Târgu-Mureş Council. MOU also stipulates that we are changing students, young professionals between us. As Korea is regarded as a "tiger" of the development of the Eastern economy, we also could import from there many ideas and many other positive things."
Local councilor Theodora Benedek (PNL) said 'Memorandum would be beneficial for the international opening of Târgu-Mureş, and implicitly for the attraction of foreign investors.'
Results : for 20 vs against 3
"I can only praise this initiative and become the first city, not from Romania, but maybe from the region of Southeastern Europe, which takes such a step." – Makkai Grigore
---
What is HWPL?
---
The Walking of
HWPL

: Substantial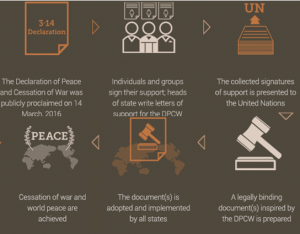 In May 25, 2013 The Declaration of World Peace was proclaimed.
In Sep 16-19, 2014 World Alliance of Religions' Peace (WARP) Summit
ln Sep 18-19, 2015 Convention on the Renunciation and Cessation of War and International Armed Conflicts
In Nov 12-13, 2015 Committee meeting convenes to draft the Declaration of Peace and Cessation of War
In March 14, 2016 New international law was proclaimed by HWPL International Law Peace Committee(more info). It was called DPCW(Declaration of Peace and Cessation of War). (DPCW is here)
Now 'Legislate peace campaign'
"Now 
630

events 

176

countries

 1 million

participants"
#Legislate

Peace

Campaign in Everywhere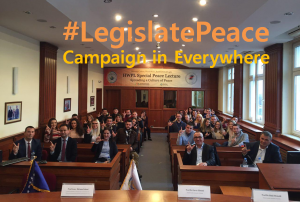 HWPL's Legislate Peace Campaign is spreading out around the globe. How many? 630 events being held in 176 countries with over 1 million participants. #LegislatePeace  The purpose of HWPL is to end WAR. Maybe you can think it is not possible. Is it so naive? Is it an unattainable ideal? But the walking of HWPL makes us to believe. We can get a hope. I can have the faith that they can do it!
170

branches

 151

Advisory Council

506

Publicity Ambassadors


705,000

'Legislate Peace Campaign' Signatures

"When the light of heaven shines in the hearts of people, it becomes the light that never fades away."
– HWPL

#TogetherForPeace #ANewStart #WeAreOne #HighFive

Reference : http://www.zi-de-zi.ro/2018/04/27/memorandum-pentru-cultura-si-pace-aprobat-de-consiliul-local-targu-mures/
Peace

is up to you

:0

Good luck

!