Vietnam Napalm girl in 1973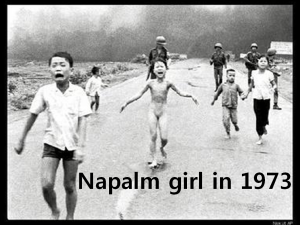 Do you remember this picture? You might have seen this Vietnam Napalm girl picture. It earned a Pulitzer Prize and was chosen as the World Press Photo of the Year for 1973. In the picture, a nine years old girl was running naked. AP photographer Nick Ut took a photograph, and took Injured children to hospital. Can she be treated? That hospital determined that her burns were so severe that she probably would not survive.
---
After being an adult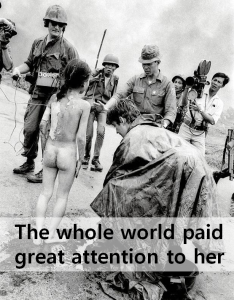 In an interview many years later, she recalled she was yelling, Nóng quá, nóng quá ("too hot, too hot") in the picture. The whole world paid great attention to her. So, she could stay a 14-month in hospital and undergo 17 surgical operations. Vietnam and the United States must have to save her. How does she live after she became an adult? She majored in medicine in Vietnam. But she have to stop studying. She was used as a propaganda symbol by the communist government. In 1992, she married in 29 years old. In 1996, the Napalm girl met the surgeons who had saved her life. The following year, she passed the Canadian Citizenship Test with a perfect score and became a Canadian citizen.
---
Be a hero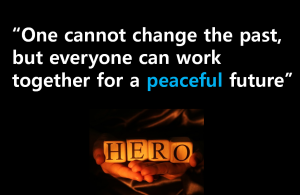 In 1994, Kim Phúc was named a UNESCO Goodwill Ambassador. In 1996, Kim Phúc gave a speech at U.S Vietnam Veterans Memorial on Veterans Day. She said, "One cannot change the past, but everyone can work together for a peaceful future." In 1997 she established the first Kim Phúc Foundation in the U.S. What do you think its aim? It is providing medical and psychological assistance to child victims of war. She started a new life, constantly speaking about the War.
---
Forgiveness made me free from hatred. I still have many scars on my body and severe pain most days but my heart is cleansed. Napalm is very powerful, but faith, forgiveness, and love are much more powerful. We would not have war at all if everyone could learn how to live with true love, hope, and forgiveness. If that little girl in the picture can do it, ask yourself: Can you?

Kim Phúc, NPR in 2008

---
How tough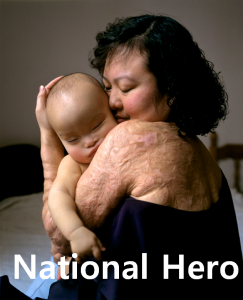 The scar of a burn filled her body with pain chronically. Occasionally the puberty girl must endure intolerable situation like people's attention. I can't imagine how hard it is for her. But she didn't despair. Her determination never wavered. She didn't blame anyone. Isn't it really cool? There is nothing to make person mature as much pain. So she is much more valuable. Likewise your hardship is valuable, too.
---
Are you
tough

now?
---
What does not kill you only makes you stronger – Friedrich Nietzsche
Peace

is up to you

🙂

Good luck

!